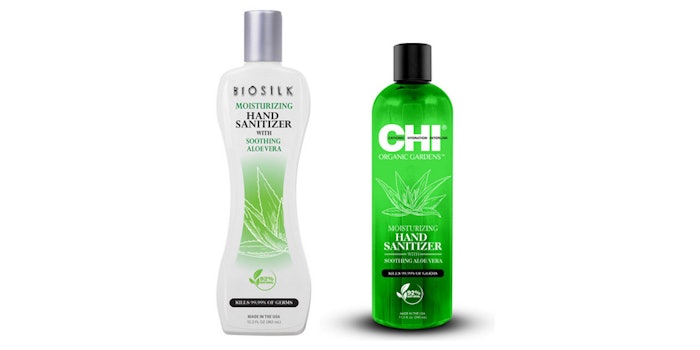 In response to the COVID-19 (coronavirus) outbreak, Farouk Systems, Inc. has begun the manufacturing of CHI and BioSilk's first-ever hand sanitizer lines.
The company, which specializes in hair care products, will donate $1 million worth of the CHI Organic Gardens Moisturizing Hand Sanitizer to the city of Houston, Texas, following its inaugural donation to the city of Tomball, Texas.
The company will also increase the production of hand sanitizer to help hospitals, hairdressers, salons and consumers.
CHI Organic Gardens Moisturizing Hand Sanitizer and BioSilk Moisturizing Hand Sanitizer with Soothing Aloe Vera contain 77% by volume natural denatured alcohol along with organic aloe vera grown at the CHI Organic Gardens. The formulas also contain glycerin and a lemon-citrus fragrance. Products will come in four sizes: 25oz, 12oz, 6oz and 2oz.
The company is reportedly working on the production of two more hand sanitizers made with hydrogen peroxide, alcohol and glycerin. Antibacterial hand soap is also said to be in the works.
Farouk Shami, Ph.D., founder and chairman of Farouk Systems, Inc., said, "As a nation, we are being challenged by a worldwide pandemic. It is our responsibility as Americans, business professionals and human beings to do everything we can to help with supplying America with vital products, equipment and supplies necessary to help fight this virus. Our company and manufacturing facility are equipped to step up in any way we can to help our fellow Americans maintain some sort of protection against COVID-19 with the proper hand sanitizers. We wish you all to remain safe and healthy. May God bless all of you."