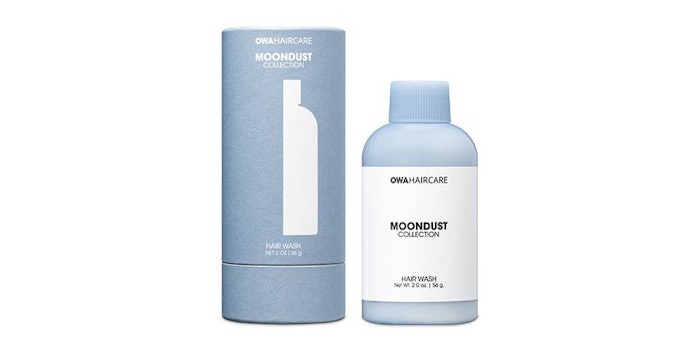 Water-saving product concepts have started making their way into the mainstream beauty and personal care markets over the past several years. 
One such brand embracing the movement to reduce water dependency is OWA Haircare, a brand specializing in powder shampoo. According to OWA, on average, liquid shampoo is 80% water but its Moondust Collection contains 0%. 
The waterless hair wash has been formulated with a custom blend of surfactants as well as conditioning ingredients for both the hair and scalp. Available in Moondust fragrance or unscented, the hair wash does not contain sulfates, parabens, silicones, artificial colors or artificial fragrance. 
How it Works
After wetting hair, users are instructed to wet hands and sprinkle a small amount of powder evenly across one hand.
To activate the product, the user must rub hands together.
Users then massage product throughout hair. 
The product is lathered and rinsed out of hair, per usual. 
Update: The product is now available for purchase at www.owahaircare.com