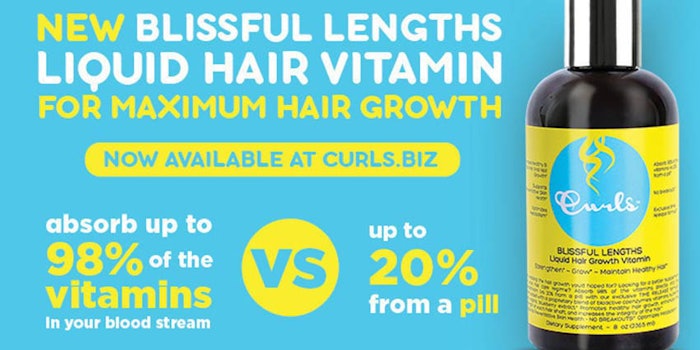 Beauty from within can be a tough sell, but one brand thinks it has a solution for the hair, which could be compelling due to rising hair breakage and loss among consumers.
Curls has launched the Blissful Lengths Liquid Hair Growth Vitamin, which aims to overcome nutrient deficiencies that can contribute to hair loss. The time-released vitamin has an absorption rate in the bloodstream of 98%, compared to 20% for a pill, according to the brand.
The product reportedly promotes healthy hair growth, boosts the strength of hair shafts and "increases the integrity" of the hair. It will retail (8 fl. oz) for $25.00 at the brand's site, and select Target and Sally Beauty stores in 2017.
"In order to derive benefit from the micronutrients in vitamins, your body has to absorb them – rapidly," said Dr. Lorna Thomas, a board certified dermatologist. "However, we have known for a long time that the rate of absorption of micronutrients from vitamins taken in pill form may be compromised by several factors, such as fillers, binders, and flow agents." 
"As a leader in the natural hair care industry, it was imperative for Curls to set the trend by pairing quality organic hair care products with all-natural hair growth enhancing vitamins," said Mahisha Dellinger, Curls founder and CEO. "We are excited to introduce this product to the health and beauty market to meet the demands of our customers who truly desire healthy hair growth."