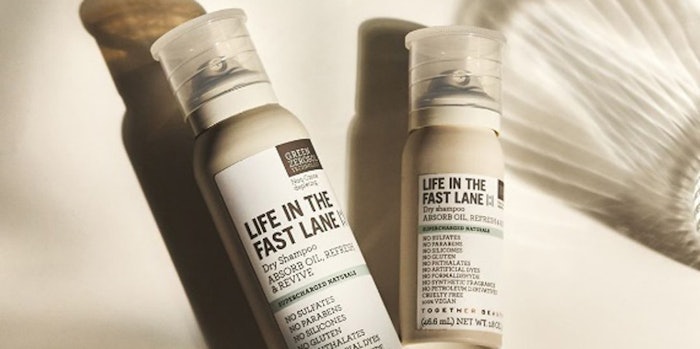 Together Beauty is releasing its Life in the Fast Lane Dry Shampoo, featuring Green Zerosol Technology, the first aerosol of its kind to be sold at Sephora. 
Previously: Aer Cordless Hair Dryer Uses AI
The Green Zerosol Technology reportedly is non-ozone-depleting, has ultra-low global warming potential and is VOC-exempt. 
Life in the Fast Lane Dry Shampoo has witch hazel and rice starch to absorb oil and alleviate scalp sensitivity. The dry shampoo is said to give you bouncy, clean hair and a healthy scalp.
The hair product is available exclusively at TogetherBeauty.com and at Sephora on September 28, 2020. 
Founder of Together Beauty, Sam Brocato, said: "Dry Shampoo does a lot of work absorbing oils from your scalp, it's so critical to know what you're spraying into your pores. The hair follicle generally has two hair strands coming out, if you have two strands coming out—think about the size of the pore. Simply put, your scalp is just as absorbent as your skin, so we need to make sure we are using the most clean, effective ingredients."