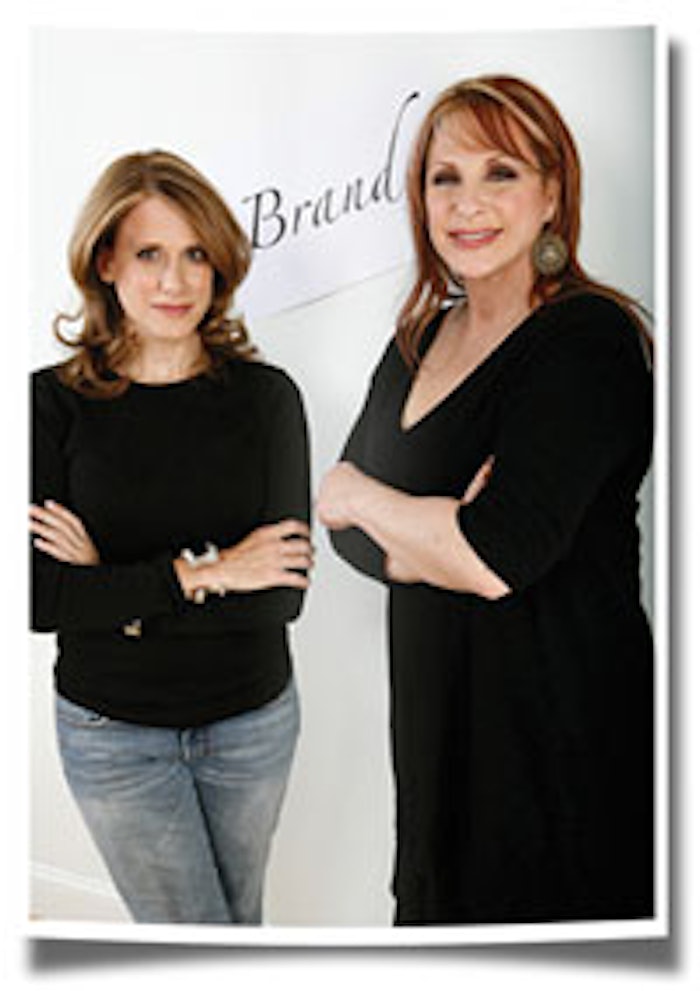 In a made-for-TV meeting just over two years ago, beauty industry veterans Beth Ann Catalano and Tina Hedges found each other—business partners with complementary skills and a shared passion for serving the customer. They met shortly after each had quit jobs that were the culmination of many years of learning the industry and climbing the corporate ladder.
Fate brought them together on a day when each one had lined up a consulting project in the same building. "We took separate elevators to the same floor and went to the same door," Catalano recalled. "Now she's marketing and I'm sales, and we trust each other."
The two were in the midst of putting together their idea for a brand incubator that they named twist.new.brand.venture, when a phone call brought them their first project—and what a project it turned out to be. In two short months, they put together financing and a management team and began development on what would become Jonathan Product, for Bravo's celebrity stylist Jonathan Antin.
That chance meeting brought together two very different people. Catalano, who hails from Texas and Colorado, is married, has a teenage daughter and lives on the New Jersey shore. Hedges, born in Jamaica of Cuban parents, is single and lives in New York City. They both came up through the ranks in the beauty industry, but their paths to "twist" were very different.
Beauty Advisor DNA
Catalano believes her career was settled at a very young age, when her toys were Estée Lauder cosmetic testers sent to her by her grandmother. She studied marketing and international business at the University of Colorado, and worked part-time as a Clinique beauty advisor in a local department store. It was definitely a formative time for her; she knows that the role of beauty advisor is in her blood. "I don't just think like a beauty advisor," she said. "I am a beauty advisor."
Catalano learned what it takes to please the customer in a beauty capacity, and believes that that education branded a love of the business in her heart. The role of the beauty advisor, she said, is the most important part of the equation when it comes to the customer. "The beauty advisors tell us, the brand, what the consumer wants and needs."
She was a regional sales manager for Lancôme in the 1980s when there was a commitment to making Lancôme as big as Estée Lauder. She was told that the only way that would happen was if Lancôme knew everything about the people who were selling its products, made great hires, built its bench strength and engaged in team-building. By 2000, she was vice president of sales at Unilever, where she led the introduction of the Vera Wang fragrance. From there, she went on to lead the Guerlain division at LVMH.
"As the industry changed, merged and consolidated, Beth Ann and I have crossed paths off and on over the last decade," said Graham Hankin, who currently is education brand manager with Sephora. "Most recently, I've known (her) since her involvement with Jonathan Product. We have worked together on this brand from the outset to ensure its launch at Sephora was effective and buttoned-up."
"Beth Ann is one of the smartest people I know, and always brings humor, insight and humanity to everything she does. We may not always agree on everything and we may even agree to disagree occasionally. And that's okay. I have the utmost respect for Beth Ann, and know that her heart is in the right place," said Hankin. "One of my favorite things about Beth Ann is her sense of humor and willingness to 'go there' when we are having fun. She keeps me on my toes, and always is ready for more."
Camille McDonald, executive vice president, merchandising and brand development at Bath & Body Works, knew Catalano during her years at Guerlain. She remembers Catalano's sense of entrepreneurship, her creative problem-solving and her skills as a leader. "She was extremely focused on a goal -- a trait that's hard to find in an executive, McDonald said.
"Ultimately, she was preparing herself to be in a less-structured entrepreneurial position," said McDonald. "Jonathan let her apply all her skills."
Hong Kong to Hollywood
Hedges grew up thinking she wanted to be a fashion designer. She studied Mandarin Chinese at Amherst College in Massachusetts so she would be ready when the time came to manufacture clothing in China. She lived in China for a year to study the language. Convinced that she would be the next Ralph Lauren, she finished college and took a job on 7th Avenue in New York. When her boss's Chinese partner decided to leave Hong Kong, the boss hired Hedges to learn his business and run his factory in China.
"I got to learn on someone else's dime," said Hedges. She learned that you have to love your product, whatever it is. "You have to really believe in it." It turns out she was not that interested in fashion.
Hedges believes that her most formative years were her first few years in the beauty industry. In 1989, Bernd Metzger, the president of Parfums Christian Dior, was looking for some new energy and new blood with a global perspective. Hedges joined his "Polyglots" program—a young international force with global backgrounds that he felt would bring a fresh approach to the beauty industry. He moved them around the company, including stints on the sales floor. "He put me in Macy's Herald Square for the launch of Fahrenheit, and wouldn't tell me for how long," said Hedges.
"Our business begins and ends at the counter," she recalls Metzger telling her. "If you're not willing to start there and understand it, you'll never make it in this industry." Hedges spent four months at Macy's, and calls it the hardest job she's ever had in the industry. Throughout her career, she remembered the lessons learned in those early days. "I always made sure every few months, no matter where I was, to go and spend some time behind the counter."
From there she went to work in product development at Princess Marcella Borghese. Catherine Walsh was one of Hedges' earliest bosses and mentors at Estée Lauder. "I know Tina quite well and for many years," said Walsh, who today is senior vice president, American Fragrances, Coty Prestige Worldwide. "I hired her away from Christian Dior when she was in PR and I was looking for a head of product development for Princess Marcella Borghese."
Despite the fact that Hedges had no previous product development experience, Walsh remembers that Hedges was confident that she could do the job. "So, firstly I would say she has a big mind and a diverse mind. She succeeded in the position with ease. We were a 'start-up' so to speak, as we were part of the team when Borghese was sold from Revlon."
It was Hedges' entry into an entrepreneurial environment, and Walsh believes that environment suits her quite well. After leaving Borghese, Walsh returned to Estée Lauder, and brought Hedges on board. "She once again excelled, and brought a number of breakthrough innovations to the market," said Walsh, who was honored last month with an achiever award from Cosmetic Executive Women.
"In thinking back over the years, I believe Tina has had the necessary corporate experience to know that she is a true innovator and entrepreneur at heart. When she left Lauder and entered L'Oréal, she was able to bridge her love of science, technology and art. This position moved her even closer to her destiny, which was to start her own thing and really own her ideas. She has endless creative product ideas, as well as the stamina to start (a) company and stick with it."
Hedges left her last corporate job in July 2004, and met Catalano that same month. Catalano recalls that while Hedges was very passionate about brands, she did not have the relationships at retail to get into distribution. "She didn't know it, but she was looking for my skill set," said Catalano.
All this brings us to that made-for-TV meeting and a star turn on Bravo's hit show Blowout, featuring Jonathan Antin. Catalano recalled that not five days after the two met, Antin's manager called Hedges. He said "I have a star, Jonathan, who just ended his first season of Blowout. He wants to do a product line," remembered Catalano. The manager told them that if they could put together the management team and the investors, he would talk to them. "Less than one month later we were signing a deal," Catalano said. The two are now equity partners in Jonathan Product.
Twist of Fate
An initial attempt to interview Hedges and Catalano together by phone was as exhausting as it was fascinating. They finished each others sentences like identical twins or a long-married couple, when what they really are is a business team so well in sync that there is no doubt about their mission to "seek out new cross-media brand opportunities and continually leverage our experience to find alternative ways to finance, market and distribute these brands."
twist.new.brand.venture is "a professional services organization founded by beauty industry experts and entrepreneurs dedicated to the creation of new and innovative multimedia brands across beauty, fashion and self-improvement categories."
The company name came out of a brainstorming session. Hedges explained that they were throwing out a bunch of names but nothing struck their fancy. "Then I thought, everything we do has a bit of a twist," said Hedges. "We hadn't fleshed out what 'twist' would be, but we just knew we had a synergy and understanding of the beauty industry."
"Tina and I love the name 'twist' because we look at everything from a different point of view," said Catalano. "People ask 'How can I fix this brand?' But how do you go back and do it again? Relaunch? There's no such thing." In their view, a company has one opportunity to launch a brand, and it had better be strategic and do the right things for the brand the first time. "Innovation is on a short string," said Catalano. "People think that that's a twisted point of view, but that's how we work."
The two say there is no company that they know of that does the sort of end-to-end work they do: raising the financing all the way through training retail sales people. Their vision is that end-to-end opportunity, and they want to look at brands that need that kind of involvement.
"Beth Ann and Tina are a very good fit," said Art Spiro, president of Liz Claiborne Cosmetics. "Tina is very gifted in product development, advertising and marketing. Beth Ann has a very astute business sense. She is thorough, tenacious, passionate and driven. They are both very flexible and hard-working, which are essential qualities for success."
Hedges and Catalano agree that there are many fabulous consultants in the beauty industry, but they want a different relationship with their brands. When you are an owner, they say, you come to the table with a different perspective. Instead of pointing out what's wrong, you're solving problems. Having an equity share in each of the brands motivates them to find the right people to work on the brands. They are building twist.new.brand.venture with people who really share their entrepreneurial spirit.
"Our favorite questions when looking at a brand are, 'Who do you want to be when you grow up and how are you going to get there?,' " said Hedges.
Hit-seeking Missiles
So what's next for this dynamic duo? They currently are looking for a brand that is either celebrity-driven or supportive to a celebrity with a different point of view—a colorist or a spa esthetician, for example. "We've talked to 40 plus people," said Catalano. "In order for twist to go to the next level quickly, we need a hit on our second time out. The pressure is on to select the right person or brand."