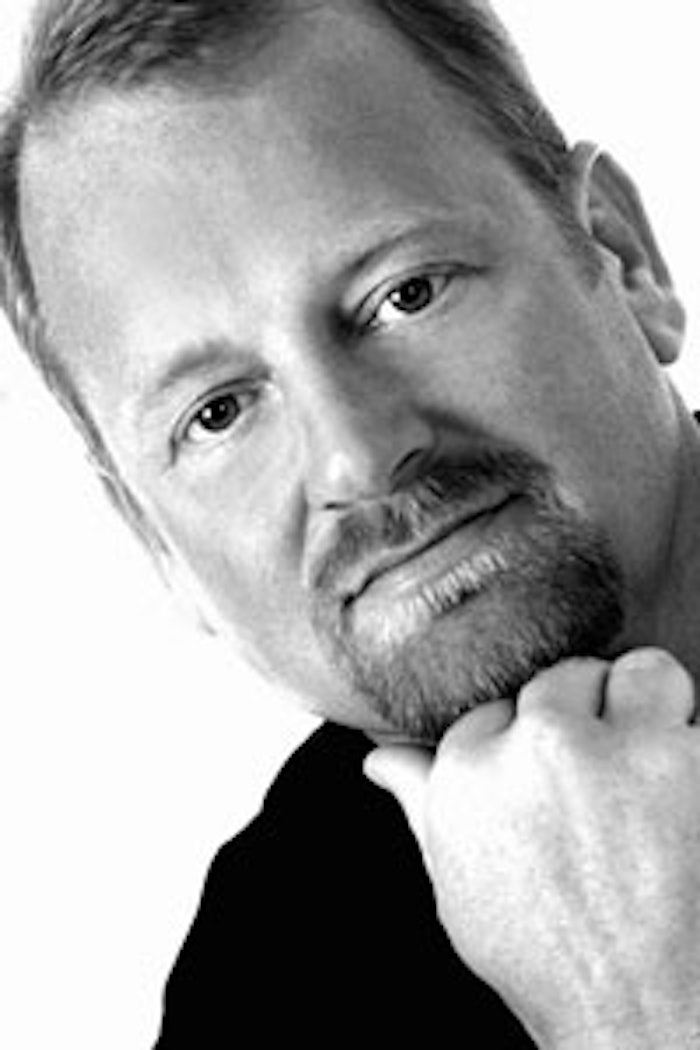 Meeting ThermaFuse CEO Van Stamey for the first time is a little like squaring off against an oncoming train—but in a good way. You can sense his determination even before he opens his mouth to speak. When he does talk, he looks you right in the eye, and you want to hear what he has to say. Stamey was in Las Vegas in mid-July for Cosmoprof North America, working the booth with ThermaFuse president Wayne Sinquefield and talking about his line of products for heat-styled hair that launched in August 2005.
With a pair of industry editors, he was all business, firing off a description of his line. "Our products are broken down by fundamentals, treatments, stylers and sprays," he said, and the products on display were visually attractive and, right on trend, clearly labeled as to their specific benefit: volume, color care, moisture, strength and more. It became clear very quickly that, when it comes to Stamey and his products, what is on display is just the tip of the iceberg. Stamey is warm and engaging. He surrounds himself with relatives and friends, and makes his customers feel like part of the family. He has a new strategy for the salon hair care business, and he is making it work.
Bring on the Heat
Stamey's roots run deep in the salon business. He grew up in a family of hairdressers, starting with his father, who got into the hair business to avoid work in the local mills. The family legacy grew to include his mother, grandfather and an aunt—who all have worked as independent salon owners.
The work fed his father's interest in formulating hair care products. Back in the day, people who visited a salon once a week had no reason to take product home, but Stamey's father had different ideas. "Dad viewed his shop as a business, not just a salon," said Stamey. "His customers were evenly split between men and women, and everyone took product home."
His father started formulating products in the back of his salon in 1973. Stamey, who chose a business degree over barber college, has always worked in the Kannapolis, N.C., family business. He ran Grayson O, the manufacturing company his dad founded, packaging professional hair care products for a number of brands. That company now is run by a nephew, allowing Stamey to concentrate on ThermaFuse.
As far back as the 1970s, his folks were concerned about the damage that heat styling was doing to customers' hair. It is a challenge that researchers and formulators have worked on for some time. "Our chemist has always been looking for heat care technologies. He made the HeatSmart technology for us in 2003," said Stamey.
Mark Ragan, Stamey's friend since the seventh grade, joined the company after college and has been its chemist ever since. "We wanted something that would be beneficial to all the products," said Ragan, who is technical director for Salon Dynamics, the company created to produce and distribute the ThermaFuse line. "Our wish was to show results at room temperature and with heat."
HeatSmart Complex, a registered technology, combines silicone and wheat protein molecules with a number of other ingredients. "Tests show that when you increase the heat, the functions of these ingredients build on themselves by increasing the molecular weight and building viscosity," said Ragan, who is a member of the Society of Cosmetic Chemists and a former chair of the Carolinas chapter. There are eight different ingredients in the complex, all geared toward protecting the hair.
Those ingredients include antioxidants from white tea and ceramides to help replenish the lipid bio layer. The caffeine in white tea also offers a benefit similar to green tea, aiding in microcirculation—which is good for the scalp. Quaternized silk amino acid is included to help hair hold in moisture, binding moisture to the hair. "We just tried for traditional protection plus better benefits against heat damage," said Ragan. HeatSmart Complex is made in the ThermaFuse factory and is the first ingredient in nearly every product made there.
The handful of products that don't contain HeatSmart Complex are treatment products that don't need it or those with a chemistry that makes it difficult to incorporate. One of the newest ThermaFuse products, also created by Ragan, is 8-Elixer, a product Stamey said makes clarifying shampoo obsolete.
"Stripping the hair isn't the kindest way to clean hair," said Stamey. 8-Elixer is safe for use after chemical processes such as hair color and permanent waves, and is a great way to remove odor after a permanent wave, he said. It is described as a fermentation of water, sugar, molasses, barley malt, freeze-dried kelp and yeast. Nonpathogenic bacteria digest fatty acids and other compounds that naturally build up on hair.
Marathon Meetings
Another important element in the ThermaFuse line is the fragrance. Stamey and his team worked with Ungerer & Company to develop the scent. "These folks had worked with Joni Rae in the past, " said Stamey. "They held a focus group on the fragrance in the center of a mall over two weekends."
Joni Rae Russell is the owner of Joni Rae and Associates, an Encino, Calif., marketing and creative services firm that handles marketing, branding and package design, as well as advertising and public relations for beauty industry marketers. Knowing he was going to need marketing help to launch his line, Stamey took a friend's advice to contact Russell. That was in November 2003. Less than two years later, ThermaFuse was launched.
Russell has been something of a secret weapon for the ThermaFuse brand. Stamey credits her as the driving force behind the packaging and marketing, and as the person who kept things rolling through some marathon conference calls and meetings. "We spent a month on the colors, a month on the copy and a month on the shape (of the bottle)," said Stamey. The longest conference call, to discuss the copy, was six hours long.
"When developing a new product, the most important phase is the upfront branding," said Russell. "If you nail your positioning and brand personality, the packaging, marketing, creative, PR, etc., fall into place and just add to the strength of the brand."
"The ThermaFuse bottle came about because Joni Rae, Mark Ragan and I were having a big argument about who should get the most space on the bottle. The ingredient list was a mile long, and marketing needed a panel for that story," said Stamey.
"The goal was to create a package that not only would make the stylist proud to recommend and look good in the salon," said Russell, "but also create an emotional response from the consumer and work in terms of function and look in their home environment." If it turns out that there are, in fact, three sides to every story, the container now exists to hold them. The three-sided bottle was a solution that accommodated everything and everyone very nicely.
Three-sided Success
The bottles are custom-made by Matrix Packaging of Mississauga, Ontario, and are decorated in Stamey's Kannapolis factory. Ron McLamb, who runs the decorating department, has worked for Stamey since 1989. "I'd say he's the best in the business," said Stamey. The bottle decoration is complex, and includes embossing and debossing, as well as the use of interference inks. Product labels, created by WS Packaging Group-Ampersand Label, also are printed with interference inks. To further accommodate the amount of copy deemed necessary to tell the product story, the labels are of the two-ply Multi-Vision/Flex View label product. The line also includes tottles from Dieter Bakic and the 8-Elixer squeeze bottle made by Lumson SpA. The line's Fixate Foam incorporates a foamer from Airspray.
POP!
Russell's contribution extends to the point-of-purchase display that is sent free of charge to every salon that stocks ThermaFuse products. POP in a Box was designed to offer salons flexibility in their displays based on space, which can be limited. The display kit includes sample display boxes, header cards and a ThermaFuse mobile. The display can be changed to allow salons to focus on one featured product or the entire line. Colors in the display coordinate with the colors used in product packaging.
The effort that went into the design of the packaging and the marketing pieces earned three Communicator Awards. The Communicator Awards is an international competition honoring excellence in business communications, and are made for print, video and audio submissions. ThermaFuse was recognized in 2006 with an Award of Excellence for "POP in a Box," an Award of Distinction for its "Introducing Healthier Hair with Heat" brochure and an Award of Distinction for its "The Hottest News in Hair Care" press kit. The company also received an honorable mention for the marketing of its "Protect and Repair Consumer Samples." (For more information about the ThermaFuse consumer samples, see "Effective Sampling Strengthens Brands," on page 32 of this issue.)
The packaging and point-of-sale materials make ThermaFuse easy to sell. HeatSmart Complex is technical, and stylists want to know how it works and "How do I sell it?" said Stamey. "I give Joni Rae the credit for the stuff that shows.
"You need to make your package such that the customer wants to pick it up. If you don't pick it up, you darn sure aren't going to buy it", said Stamey.
Independent Focus
The salon industry has changed a lot since the days when Stamey's father was starting out in the business. The growth of chain salons, a strong distributor system and burgeoning retail channels all served to change the business for independent salons.
"Independent salons are still the majority of the business, and yet they seem to get the fewest choices," said Stamey. "I wanted to create a brand that focuses on the independent salon," he said. In so doing, he is trying to create a diversion-free brand.
Stamey's salon-direct model has resonated with independent salon owners—including Emery Nicoletti of Metropolis—The Salon, Tucson, Ariz. He likes the packaging and the product inside, too, but the salon-direct business model is especially attractive to his business. "The thing that impresses me the most is that a lot of manufacturers out there say 'We're committed to the salon. We're here for you.' But their products are bar coded. Bar codes first and foremost are for diversion," said Nicoletti. ThermaFuse products carry no bar codes.
Bruce Larson, who operates Bruce Todd Salon in Cape Coral, Fla., found ThermaFuse last August at the Premiere Show in Orlando, where he had gone to look for a brand that was truly exclusive to salons. "I was getting rid of all my lines that weren't exclusive," Larson said. He was drawn to the ThermaFuse packaging and to the fact that the ThermaFuse folks weren't hard sellers. But the business model that makes the ThermaFuse products exclusive drew him in. He has carried them in his salon for just over a year.
Larson's stylists like them, too. "One thing my stylists have recognized is how supportive ThermaFuse is. It seems like this group is more into relationship building, and my stylists think they're part of it," he said. "I think that's pretty powerful." Another big plus for Larson is that you can't find ThermaFuse in every store.
"I don't want to be just another account. I've been in this business for 22 years, and this is a first for me," said Larson. "I feel like I know them—I do know them! I got to meet Van's mom!" New Slant on Success
In keeping his products exclusive to salons, Stamey's customers have seen their profits increase. His determination and sense of purpose are paying off in other ways, too. "We launched in August 2005," said Stamey. "Today, we have 1,500 salons purchasing regularly from us. We've grown quite a bit in a big hurry. It's very rewarding."
Stamey grew the family business doing contract packaging for some well-known salon brands, but he says his own brand, ThermaFuse, is for the future. With a lot of creativity and smarts, and a new slant on selling to the professional beauty industry, it has let him be a little more in charge of his own destiny and that's not a bad position to be in.