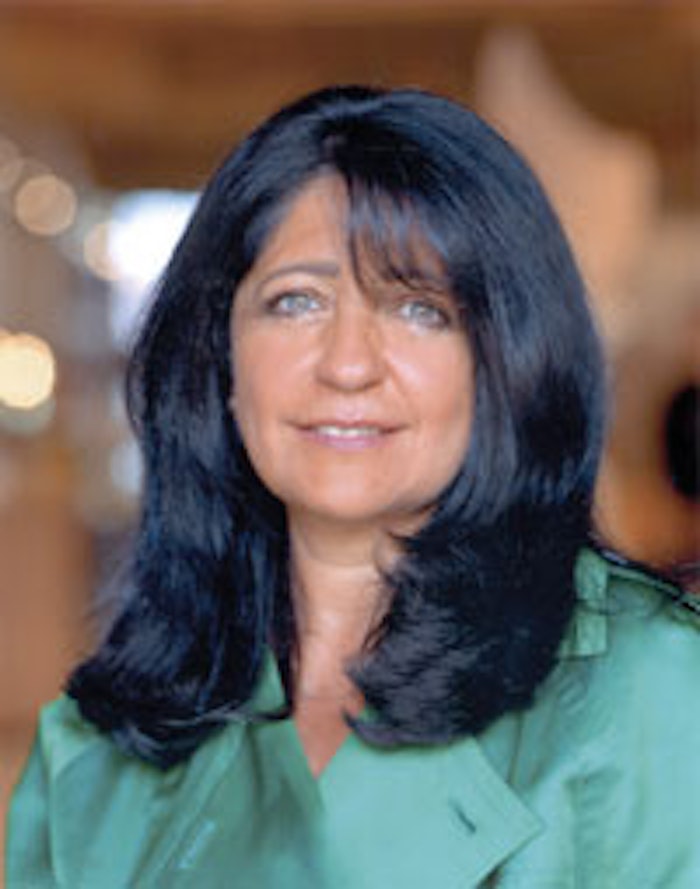 In GCI magazine's offices near Chicago, a glass display case lines the reception area. This fragrance "time capsule" holds vintage and classic perfume bottles—iconic pieces such as Germany's 4711 Echt Kölnisch Wasser and Chanel No. 5. Such collectible conversation pieces represent centuries of perfumery as an art form. That's exactly what Laurice Rahmé, CEO and founder of Bond No. 9, set out to resurrect when she launched her niche fragrance brand in 2003. The Paris-born entrepreneur knew she had something special when she chose to epitomize her favorite adopted city, New York, into well-formed bottles.
"If you go back into fragrance history, perfume bottles were pieces of art—sculptures," Rahmé says. "I'm trying to go back to the source." Now sold in 35 markets, including Dubai and Russia, Bond No. 9 has had a 50% overall increase in exports through international sales, according to Rahmé. Launched after the tragedy of Sept. 11, Bond No. 9 was Rahmé's effort to bring back beauty to the Big Apple, and besides, she adds, "New York was selling."
Still to this day, Rahmé believes "everyone in the world wants a piece of New York." Her international background in the beauty industry, stemming from her work as an international training director with L'Oréal's Lancôme and years spent as president of Annick Goutal's U.S. division—growing it into a multimillion dollar business—brought Rahmé in contact with global business leaders, which enabled the growth of her niche brand. Even The Andy Warhol Foundation for the Visual Arts Inc. approached Rahmé to design its themed fragrance line, Andy Warhol Union Square, using the artist's pop aesthetic for the bottles' visual appeal.
"As a niche company, we don't have the budget to advertise, so we rely 95% on the visual impact of a product," says Rahmé. Similar to how two strangers may feel an attraction after making eye contact, Rahmé believes a person's eyes play just as important a role in selling a fragrance as the nose does. "A bottle's visual appeal will make someone want to pick it up and smell the fragrance."
Rahmé, who began her career as an antiques dealer in Paris, knows a thing or two about collecting beautiful things, and when a person sticks to a core philosophy—in Rahmé's case, it's producing New York neighborhood-themed fragrances—she says you'll find success. Cosmetic Executive Women agreed. It named Bond No. 9s
Andy Warhol Silver Factory 2008's Best Men's Scent. Rahmé says she felt overwhelmed with excitement from the accolade, "especially about being up there next to the 'big guys.' " The big name in fragrance suppliers, Givaudan, who worked with Rahmé on the award-winning fragrance, was flexible enough "not to stick Bond No. 9 in a mold," she says, which is one quality she believes niche brands should search for in fragrance suppliers.
Rahmé's "stick to your guns," no-nonsense business philosophy keeps her niche marketing appeal on track. Bond No. 9 will continue to represent her beloved city, including in the brand's recent collection, New York Beaches, which launched in summer 2008. "We always follow what the New Yorkers do," says Rahmé. "When they go to the Hamptons for the summer, we follow, and so on. It's different populations looking for different styles of fragrance and fashion." Rahmé, who herself prefers to wear oriental notes, says she refuses to deviate from her vision of producing genderless, New York-inspired fragrances. "I've been approached by people who want me to make fragrances for other cities, but I won't," she says. "I believe in New York, so that's what I'm sticking to."