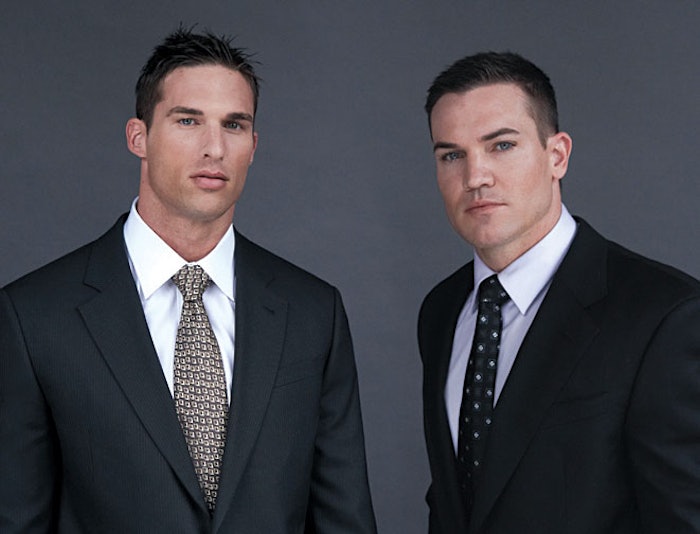 Barry Alford and Jefferson Hoffman, Founders, Alford & Hoff, Inc., www.alfordandhoff.com
Competition in the international skin care segment reigns among women's prestige and mass-market brands as they battle to launch products with the newest ingredients, technology and marketing claims. But for male-specific antiaging skin care, college football friends Jefferson Hoffman and Barry Alford saw a hole in the market. "We were two guys shopping women's lines for years—for their actives and antiaging components," Hoffman says, "so we wanted to bring high performance products to a men's line." The Arizona State University athletes-turned-entrepreneurs took the next step and started a business together, founding Alford & Hoff—a luxury men's skin care line available exclusively at Bergdorf Goodman and Neiman Marcus.
"This has been a three-year process for us, and we've only just launched this year, but the fruits of our labor are starting to pay off," says Alford, who became a medical equipment salesman for neurosurgeons and plastic surgeons after graduation. Alford's consultations with doctors specializing in diseases of the brain, face and head put him in touch with John Gross, MD, a cosmetic and plastic surgeon known for separating conjoined twins. Gross, also an associate professor at the Keck School of Medicine of USC, provided Alford and Hoffman with the medical expertise needed to formulate a skin care line that would perform, using proprietary sirtuin-activating complexes, known as "youth proteins," to prolong cell longevity. "It's like lifting the hood of a car and looking at the engine," says Alford, describing the line's daily, seven-step regimen that features a cleanser, eye cream, moisturizer and more blended from antioxidants, vitamins, amino acids, minerals and sirtuin activators.
Taking their cues from their advanced ingredients—and from their shopping habits—Alford and Hoffman approached Neiman Marcus and Bergdorf Goodman to position their brand. "They are an excellent fit," Alford says, "because these are not mass products. Launching the line there will help build the brand, and there were no other men's lines there before us that had our DNA."
Another important aspect of the company's brand positioning is its prestige packaging, set in chocolate browns, silver and white tones. "Jefferson and I designed it," says Alford. "We wear every hat in this business. Many of the men's lines out there have retro-inspired packaging, but we wanted to speak to today's man."
And speaking firsthand to their consumers, Alford and Hoffman decided the best way to market their products would be by literally becoming the faces of their own ads. "It's also part of the brand positioning," says Hoffman. "Neiman Marcus fell in love with us but said we were missing one thing—that we should be the face of the line. Who better to represent the line than the ones who know it best?"
For a start-up company, across the board, the brand's SKU sales patterns are steady and even, according to Hoffman, "which is a great problem to have," he says. But overall, Hoffman adds, "we're letting men know it's okay to take care of themselves." In 2009, Alford & Hoff will expand their brand with a men's fine fragrance, while searching for other routes of expansion outside the luxury skin care segment.