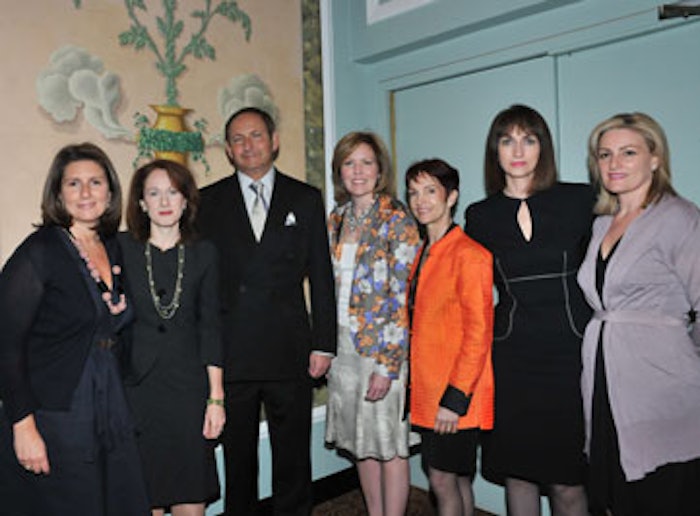 "When the going gets tough, the tough go cute or sexy," said John Demsey, group president of The Estée Lauder Companies and panelist for Fashion Group International's recent Beauty Game Changers event at The New York Hilton. The day's conversation revolved around brand success in the current economic environment and beyond, beginning with a trend overview from Jeanine Milillo, North American managing director of Peclers Paris, who said, "The crisis has revealed the rift between necessity and desire."
Milillo illuminated consumer's growing desire for innovation and usefulness in brand offerings, which has led to a rash of "ultra-practical" technology showing up in product aesthetics and "compact offers." In addition, consumers show an appetite for timelessness and universality highlighted by "post-minimal elegance" that positions excellence above quantity. Meanwhile, locavore diets and consumer interest in handicrafts reflect a "return to sources" attitude.
Moderator Karen Young (The Young Group) opened the panel by citing online retail success Zappos, which offers customers free overnight shipping and returns. About 75% of the company's customers are return clients. Young noted that Zappos' entire brand identity was derived from its customer relationships. This sort of "wow experience" is precisely what all brands must deliver, said Young, particularly in harsh economic times.
Nicky Kinnaird, founder and president of Space NK, discussed the mediocrity of dumbed-down retail, which ensures consumer boredom. She explained that her organization is currently focused on service and price point in the fight for the reduced consumer dollar pool. After all, consumers today are now free to be increasingly choosy and demanding.
Gina Drosos, president of global personal beauty for P&G, focused on the importance of consumer understanding. She cautioned that this is not a time to be timid, but rather provocative and forward-looking. She added that the current climate is not particularly unique, pointing out that 25 of the last 100 years have been difficult economically. Drosos said that it is time to "put value over price." In tandem, companies must constantly drive the cost out of systems. P&G, she explained, considers productivity as a function of sustainability. This philosophy recently led to a revamped distribution system for cosmetics, which has netted a reduction in carbon emissions by about 40%. "It's all about the brands," said Demsey. Those that are strong will survive by giving the consumer a reason to make a purchase. Quality and trustworthiness are meaningful and will endure, he added. And he reminded the audience to celebrate and understand success.
Finally, Pauline Brown, managing director of The Carlyle Group, addressed private equity's interest in the beauty industry, which she described as "game-intensifying instead of game-changing." Beauty remains a growth industry, which explains private equity's continuing interest in the business. Brown broadly outlined the criteria for any investment, noting that brands must be relevant, differentiated, on the ascent and run by good management teams. And, she said, "the game isn't over when you buy a company, but when you sell it," which means the days of getting in and out of a deal in two or three years are over. Today it's a long haul game.
The panel concluded with a nod toward social media, with Drosos observing that credentialing products is important, a function the online world offers. However, Demsey warned that brands' messages are less easy to control today because "online isn't evolving by the year, but by the day." He called bloggers true game changers, but noted that there is always a risk when brand fans begin to generate their own content. Demsey noted that, online, garnering attention from smaller passionate crowds is sometimes better than trawling the general masses. In one recent experiment, he said, Estée Lauder's makeup artists Twittered backstage during New York Fashion Week.
Coverage provided by Jeb Gleason-Allured, editor of Perfumer & Flavorist magazine.