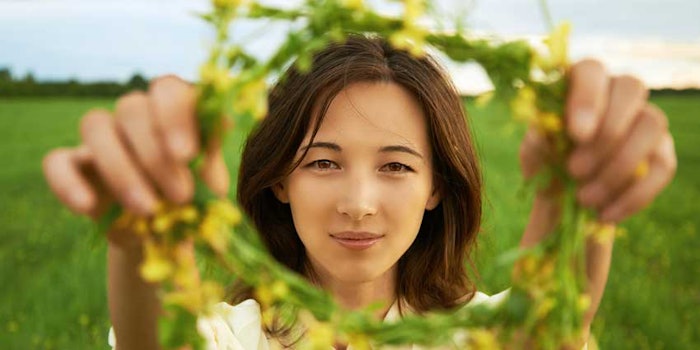 Mintel recently reported a that consumers—notably millennials—are ever more drawn to brands that not only have natural or organic ingredients (25%), but are also environmentally friendly (12%), ethically-sourced (7%) and which donate a portion of their proceeds to charity (6%). These factors could be the deciding factor at retail. But to fulfill these consumer demands requires that brands establish sustainable sourcing, align their mission with their suppliers and pursue eco-friendly alternatives to conventional solutions.
Best Practice: Sustainable Sourcing
"A consumer study from Nielsen b found that 66% of global consumers are willing to pay for sustainable brands, and 77% of global millennials are willing to pay more for sustainable offerings," says Parand Salmassinia, vice president, DSM Personal Care North America. "If we want more sustainable products as consumers, essential to that is providing more sustainable ingredients."
One of the clear trademarks of ethical beauty is that it was harvested in a way that did no harm to the environment. Having a supplier dedicated to this standard goes a long way to ensuring the claim of clean beauty for your brand. For instance, the R&D team for Origins, Estée Lauder's hallmark ethical beauty brand, has maintained a close relationship with its suppliers to boost its sustainability.
"One example is the tazetta lily, a key ingredient in our Three Part Harmony nourishing cream," says Beth Spruance, Origins' vice president of global marketing. "This is located in Israel, and the supplier very carefully monitors and rotates the crops. And, they use a proprietary method to obtain the extract that requires virtually no processing. It's extracting the key essence from the bulb when it's in its dormancy stage. So, it's beneficial both in terms of sustainability, and to ensure purity and efficacy."
BASF has focused on the responsible harvest of mahogany bark from Burkina Faso for its Collagen XVIII, a collagenous proteoglycan that stimulates collagen XVIII, allowing the skin to counteract the tissue structure loss in the epidermis, dermis and hypodermis associated with aging.
"BASF has established product specifications and good practices with our local supply partner in Burkina Faso for a monitored harvest of the bark," explains Manasi Chavan, marketing manager, BASF Personal Care. "Collection of barks on nonspontaneous populations is the main harvest method—in this case, it's collected bark or by-products of urbanization products. And, a backup method was set up on spontaneous populations, or bark trunk peeling. In such cases, collected quantities, the best period to harvest, best tools and best methods are all defined."
Gattefossé, meanwhile, works to ensure that the horse chestnut flowers used in its eye contour active, Link n Lift, are selectively and manually picked by hand in the Ardeche département of France.
"Gattefossé ensures that raw materials come from safe, identifiable and renewable sources," says Amelie Clairet, Gattefossé's marketing project leader, personal care. "This ensures truly responsible sourcing and organic certification for the ingredient."
Water, too, is a key consideration. Euromonitor's September 2017 Ethical Living report c found that 12.5% of global respondents reported wanting water-efficient shampoo products—a greater percentage than cited sustainably sourced ingredients or recyclable packaging. The numbers were naturally highest in water-stressed regions. But water conservation has even begun to reach into makeup, with brands like Pinch of Colour billing itself as "The Waterless Beauty Company" and giving a portion of its net sales toward causes supporting clean water and sanitation.
Best Practice: Mission Alignment
"It takes effort to make sure that the chain of people we work with meet our standards of quality, responsibility and purity," says Spruance. "We look at all aspects of the business and have policies in place for our vendors and suppliers regarding how they source ingredients, and how we package products and bring them to the consumer."
Curtis Packaging has been a supplier for Estée Lauder brands, including Origins, for more than 30 years. And, like their client, Curtis is focused on eco-responsibility in production.
"In 2004, Curtis became the first printing and packaging company in North America to run our plant on 100% renewable energy, to be carbon neutral, and FSC and SFI certified," says Mike Simko, vice president of sales, Curtis Packaging. "A few years later, we became a zero waste to landfill company. Curtis also supports a reforestation program in a rainforest in Costa Rica and numerous other offset programs, including a methane capturing farm in Connecticut."
"[DSM] has a Supplier Code of Conduct that we take very seriously," says Salmassinia. "Assuring compliance of our suppliers involves assessments, audits and performance evaluations."
Likewise, BASF's Supplier Code of Conduct and Together for Sustainability initiative drive its commitment to clean beauty.
"We regularly audit our suppliers and initiate sustainability assessments," explains Prerna Chatterjee, marketing manager—Sustainability, BASF Home and Personal Care. "If we discover a need for improvement, we support our suppliers in the development of measures that fulfill our standards. We then check again according to a defined timeframe. Should there be no improvement, we terminate the business relationship."
Best Practice: Eco-Friendly Initiatives
It's a huge deal to commit to clean and ethical beauty. And it's an even bigger deal to be a leader in the industry and help others make ethical changes.
"Through our Brighter Living Solutions initiative, we focus on innovations that are better for the planet and people based on a product life cycle approach," explains Sonia Dawson, head of regional marketing for DSM Personal Care North America. "Take vitamin E as an example. Vitamin E is the most widely used cosmetic active ingredient in the world, but not all vitamin Es are created equal in terms of the environmental impact. Our Quali-E Vitamin E has the lowest carbon footprint in the industry, and we even created a calculator that allows our customers to determine how switching this one ingredient in their formulation can improve its environmental credentials."
Another ingredient that can impact a product's environmental quotient is palm oil. While key to many formulations, the palm oil industry generated large-scale deforestation in the Brazilian Amazon and Southeast Asia, leading to huge impacts in the environment, climate and wildlife. However, suppliers are stepping up to effect positive change.
"Gattefossé became a member of RSPO (Roundtable on Sustainable Palm Oil) in 2010 to support conscientious and responsible palm oil producers and cooperatives," says Clairet. "Within our product line, we have many ingredients developed using sustainable palm oil derivatives."
RSPOd member BASF has also taken extra steps to ensure this ingredient can be harvested responsibly.
"We have 19 BASF RSPO-certified sites globally, and are also involved with small holder projects, where the farmers can learn and establish sustainable supply chains for palm and palm kernel oil, which effectively improves their living conditions," says Chatterjee.
An Ethical Future
As consumer demands, brand innovations and supplier partnerships drive toward ethical, ecologically responsible practices, a new beauty future is taking shape. Salmassinia concludes, "We are proud of what we do. Our choices contribute to shaping the future of the industry."
___________________________________
Lisa Doyle was formerly the associate editor of Global Cosmetic Industry and is a freelance writer in the Chicago area. Her work has also appeared in Skin Inc., Salon Today, Modern Salon, Master Barber and Writer's Digest.
Footnote:
awww.mintel.com/press-centre/beauty-and-personal-care/americans-embrace-the-natural-look
bwww.nielsen.com
cwww.euromonitor.com
dRSPO members include cosmetic brands and suppliers such as Shiseido, Oriflame, Evonik and Schwan-Stabilo Cosmetics.