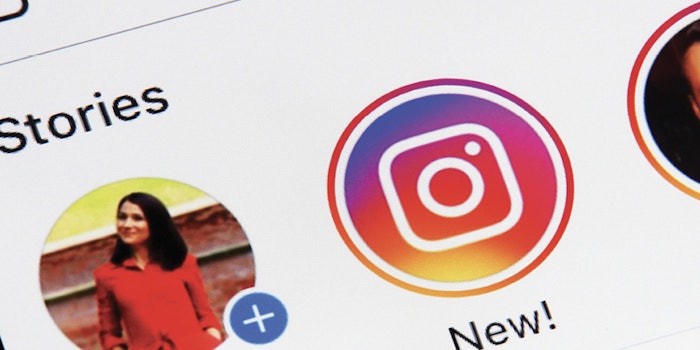 It's automatic. Like blinking. I pick up my phone and the next thing I know I am deep into my Instagram feed—scrolling through images of friends, celebrities, news outlets, beauty and fashion brands, all vying for my attention.
Instagram reported 800 million users at the end of 2017, 68% of them being womena. Go deeper into the data and it gets more compelling. According to a Facebook beauty industry report, 37% of millennial women (aged 18-34) are particularly keen on using Instagram for beauty inspiration, looks and trendsb.
At a recent conference, Instagram shared that its users are 1.2x more likely to be passionate about beauty, and that more than 2 million unique users search weekly for beauty related hashtagsc. In addition, Facebook is investing many more resources to improve measures linked to these behaviors, ultimately identifying how Instagram improves conversion and in-store purchases.
For beauty brands to be relevant today, Instagram is it. Marketers know the must haves are education and inspiration through video and imagery—but what else? From quick wins to integrating complex technology, here are a few ways beauty brands can leverage Instagram to be the next cult brandd.
Don't Just Mine the Data, Humanize It.
Instagram will become your customer service hub. Sure, it's not the sexiest part of the social media platform, but reading through, responding to and connecting with your customer base can provide a wealth of information and builds your brand's authenticity and transparency.
Roughly 5%e of Instagram comments in a given month are customer inquiries, usually asking about purchasing, products, feedback, animal testing or experience. Every one of those comments is a customer, a real-life human specifically reaching out, and the more attention they receive, the stronger the loyalty, conversion, ad performance and credibility the brand gets in return.
Stick by the golden rule here and treat these customers the way you want to be treated. Taking the customer's view seriously can be a huge catalyst for what we call stickiness.
Insta-worthy is a Cost of Entry That is Well Worth It.
Instagram will become your next product incubator. You don't have to look far: Adidas just did it with the Deerupt shoe, which was designed for the toe-down photos that are so popular on social media, Van Leeuwen is reaping the rewards with its photogenic rainbow of carton colors, and practically every beauty brand is striving for it.
Product development and packaging must pass the 1-second (which is being generous) Instagram test. Emphasis on texture, form and unique applications (read: sparkle, glitter, foam) are some of the top traits of brands that are Insta-worthy. Cult brands like Glow Recipe have turned the product development process on its head with the launch of its Watermelon Glow Pink Juice moisturizer. The product was teased online, creating a 5,000-person waiting list. The available stock sold out almost instantly, creating anticipation for its online and in-store retail rollout.
Creating a moment on Instagram with compelling, engaging (key word here!) imagery is not an output of the development process, but it is an input. Start with the truth: the reality that you are developing for a thumbnail—instead of a shelf—that will create advertising opportunities, huge word of mouth and, in turn, in-store and online traffic.
As always, be smart about your choices and stay true to your brand positioning—that is more important than sparkly glitter. This is the age of authenticity. Some of these effects aren't always good for this skin, so ensure you are not compromising your brand's beliefs, because your followers will sniff it out and call you out. That is not worth the PR headache.
Its Potential is Limitless.
Instagram has done what no other social media platform can achieve: I don't mind the ads and sponsored content. Even though these placements are the result of an algorithm outside of my control, they feel organic; therefore, I am open, receptive and curious. Coupled with strategic celebrity endorsements—as with Hanacure's endorsement by Drew Barrymore for its All-in-One-Facial mask—it is no wonder that, according to Shopify, Instagram has the highest conversion rate of browser to shopper of any social networkf.
For these reasons, the platform is likely to one day form an end-to-end shopping experience.
With advancements in AI and AR digital mirrors, the use of Instagram as a place to learn, share and comment will continue. At the recent SXSW, YouCam revealed an on-demand beauty consultation platform to offer users expert beauty advice directly from their mobile phones.
Brands like Proven and Curology are already leveraging AI to deliver personalized skin care experiences. Can you see where this is going? Imagine that, as I scroll through my Instagram feed, I can use my mobile phone camera to try out the latest lip shade, get real-time feedback from experts and my followers (because who is more truthful than a follower), buy it and have it at my door in two days or so—whenever and wherever I want.
These capabilities have already arrived, and smart innovative brands are finding ways to execute them flawlessly as the imminent shopping experience.
__________________________
Michele Sawyer is the founder and creative director of Sawyer Design Vision (SDV; [email protected]; sawyerdesignvision.com), a New York-based creative design and marketing agency that specializes in the beauty and wellness categories. SDV is co-led by strategic marketer Erin Harrell, who has more than 15 years' experience in brand marketing, strategic planning and packaging design.
Footnote:
awww.omnicoreagency.com/instagram-statistics/
bwww.socialmediatoday.com/social-business/facebook-releases-new-report-beauty-industry-trends-and-evolution-social-discovery
chttp://visualamplifiers.com/instagram-insights-beauty-industry/
dRead more about influencer partnerships in Colleen Garland's "How to Measure the Value of Influencer Marketing" on Page 22.
fwww.shopify.com/blog/12731545-which-social-media-platforms-drive-the-most-sales-infographic
eAssumes a brand receives 1,200 inquiries/day