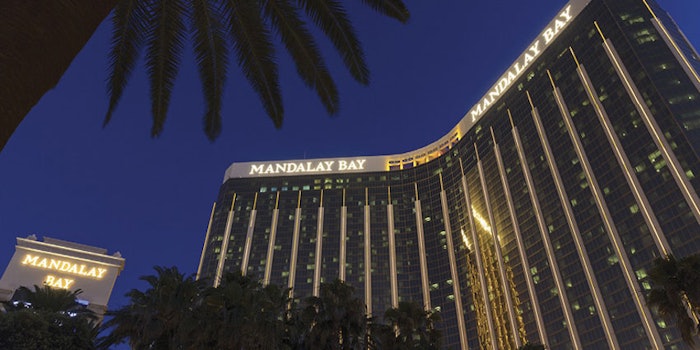 Cosmoprof North America is coming to Las Vegas July 29-31; registration is now open at http://cosmoprofnorthamerica.com. Here are some highlights of what's in store.
1. Reality Beauty TV
The Look: All Stars, a makeover competition show featuring two teams of beauty and fashion experts will highlight fresh talent and provide viewers with inspiration and how-tos. The show will be hosted by actress Tori Spelling, with Style Guru Kim Vo. Partnering brands include Aquage; Biosilk; Chi; Conair Professional; Esquire; HairTalk; Minerva; Obliphica; Olaplex; Rusk; Schwarzkopf; Tigi; Zadro; WetBrush; Sportsclips with American Crew, Joico and Paul Mitchell; and BSG Cosmoprof and the Professional Beauty Association. The show will be highlighted at the Cosmoprof North America event.
2. Accelerating Brands
On Sunday, July 29, 2018, from 1:00 p.m.–3:00 p.m., Global Cosmetic Industry will host a session exploring what it takes to scale up a unique startup, as well as what up-and-coming brands can do to maximize their chances at success. This session will feature Laura Delgado, business development, Founders Factory; Marie Chevrier, founder, Sampler; and Souha Seifeddine, group marketing manager, L'Oreal; and will be hosted by Global Cosmetic Industry's editor in chief, Jeb Gleason-Allured.
PBA Member Price: $60
Non-Member Price: $75
Cosmoprof North America 2018 attendees and exhibitors will have the opportunity to learn about Founders Factory and apply to its Beauty Tech Accelerator program on-site at the event. The Founders Factory lounge in the Interactive Technology section of the show floor will allow visitors to experience some of the latest beauty tech solutions from program graduates and to meet directly with a Founders Factory representative. During designated hours, candidates interested in enrolling in the program can also meet with a Founders Factory representative one-on-one at the lounge.
Select applicants will be chosen to participate in the six-month bespoke program and receive access to a global network of entrepre­neurs, business and world leaders. From business plan development and fundraising to product engineering and marketing, an in-house team of 60 specialists are committed to helping program participants propel their brand.
3. New Unique Brands
The Cosmoprof North America show floor will again feature special sections, including the new Beauty Vanities, which offers an opportunity for small, unique brands exhibiting for the first time. Participating brands are new to the US market or have a limited retail footprint, and are limited to no more than 10 SKUs.
4. Clean Beauty Brands
The show's Discover Green Leaf section will include brands that are positioned as green, eco-friendly, clean, organic and/or natural. Participating brands must have formulations free from 1,4-dioxane, artificial colors/dyes, fragrance/parfum, formaldehyde, microbeads, petrochemicals, phthalates and a wide range of conventional ingredients. These brands must be new to the US market or possess a limited retail footprint.
5. Pitching to Investors
Cosmoprof North America will host Beauty Pitch: Angels, which will pair independent cosmetics entrepreneurs with investors looking to invest in up-and-coming businesses. These companies are limited to revenues between $500,000 and $5 million and may have an opportunity to make a 15-minute closed-door pitch before investors.
6. Pitching to Journalists
Cosmoprof's education sessions will include a master class on the dos and don'ts of pitching to TV, print and online outlets. The experts will include Michelle Pulfrey of Good Day LA, television personality Emily Loftiss, Cheryl Wischhover of Racked, Amy Denoon of Beach House PR, and Jennifer Goldstein of Marie Claire Magazine.
7. How to Go Viral
Buzzfeed's video experts will present a how-to session on creating inclusive beauty content that catches on in social media. Experts will include Essence Gant, Jazzmyne Robbins, Kristin Chirico and Emily Erhart.
8. Pop-up Primer
A panel of experts will discuss how pop-ups can pay off and what's required to ensure consumers show up. Participants include Faye Brookman of WWD, Deborah Weinswig of Coresight Research, Gemma Lionello of Nordstrom, Lisa Mazzio of The Glossary in Barnes & Noble, Carl D. Morisset of International Designer Brands and Bruce Teitelbaum of RPG
9. Telling a Good Brand Story
Digital experts will discuss what it takes to develop content that thrives on social platforms by offering a compelling story. Experts will include Gordon Miller of hairbrained, Andi Hadisutjipto of Riviter, Simone Oliver of Facebook, Jess Scull of LoveforLacquer and Conor Begley of Tribe Dynamics.