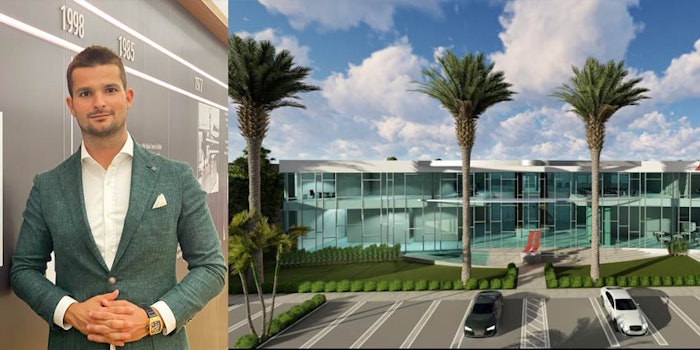 Farmasi, a direct-selling beauty company based in Turkey, is poised for rapid expansion in North America. The company will soon begin construction of a new U.S. headquarters in Doral, Florida to capture growth in the region. To learn more, Global Cosmetic Industry recently sat down to discuss the company's growth trajectory with Sinan Tuna, CEO Farmasi North America.
Farmasi has been operating for more than 70 years, with a presence in 26 countries and about 4 million beauty influencer entrepreneurs selling its products—including about 500,000 in the United States. Based in Istanbul, the company currently has about 1,500 employees.
Further reading: The State of Beauty: 2021 and Beyond
The company launched its Farmasi-branded product range in 2004 and transitioned to a direct-selling model in 2010. It quickly became the top direct-selling beauty company in the country, according to the organization.
In recent years, the company expanded into Europe, Africa and the United States. According to Tuna, the company will continue to leverage its "strong" product portfolio and competitive compensation plan for its influencers as it grows.
The company prides itself on a robust supply chain, fast shipping and good customer service, as well as positive reputation- and trust-building among influencers. On this latter front, the company is known to bring influencers to factories and its HQ to offer maximum transparency.
The 2.5 million-square-foot beauty factory in Istanbul handles the company's 2,000-SKU product line, which includes makeup, fragrances, skin care, and health and wellness. Farmasi's ownership of its own manufacturing made its supply chain much more stable, even during the toughest of the pandemic, and has generally allowed the company to enjoy shorter lead times. 
North American Expansion
Farmasi's sales doubled in the United States between March and April 2020, says Tuna. That required a doubling of fulfillment and shipping, which the company handles via Turkish Airlines.
To support the gains, Farmasi is building a $25-million fulfillment and distribution facility in Doral, Florida, which will support the region's beauty influencers and its expansion into Mexico and Canada. The site is in the permits phase, with construction expected in May 2021. The center is projected to open by year's end.
The facility will comprise advanced, automated, high-capacity fulfillment, as well as an innovation scenter, meeting space and conference centers to host and train beauty influencers.
Tuna leads the North American group and says that while Farmasi has a long legacy, it operates with a startup mentality that allows the organization to make quick decisions to respond to a dynamic market.
Selling Shifts Online
Case in point: Tuna notes that, since the founding of Farmasi's direct-selling model, traditional door-to-door sellers have evolved into online influencers. This transition has been fortuitous in the age of COVID-19 in which offline activities have declined or ceased entirely.
As the pandemic hit in 2020, Farmasi quickly moved meetings and events online. This required training, including showing influencers how to hold meetings on Zoom. This was critical in Eastern Europe and Turkey where virtual gatherings were relatively uncommon pre-COVID-19.
The result, says Tuna, was a significant jump in sales. He adds that the company has been competitive in part because of its strong compensation plan for influencers. According to Farmasi figures, at least 50% of the top influencer sales earners in the direct-selling space are from Farmasi.
Wellness Ahead
Like many companies entrenched in beauty, Farmasi has identified an opportunity to leverage consumers' rising interest in wellness. Tuna notes that the company's health and wellness products, including teas, collagen supplements, multivitamis and probiotics, was already a strong business in Turkey.
Since the pandemic began, the share of sales attributable to the category has doubled. Tuna attributes this to consumers' desire for immunity support as well as a desire to avoid physical stores. These wellness offerings will now expand to the company's other key markets.
Beyond Beauty
Farmasi has also launched FarmasiX, which provides IT solutions for the cosmetics and nutrition space. The company supports the needs of Farmasi's sales and service platforms for influencers. FarmasiX also services the IT needs of Farmasi's HQ facility.
The company plans to provide its services—e-commerce, business intelligence, AI, factory automation, drone and robotic technologies, infrastructure planning and operating, and front- and back-end development—to additional companies.
"Our vision is to become one of the most innovative information technology companies in the world," says Tuna. "FarmasiX allows us to develop high quality, scalable and secure software solutions that service companies in our industry and beyond."
The Future
Farmasi seeks to become one of the top 10 direct sales companies by 2023, according to Tuna. North America will contribute nearly half of the sales required to meet that goal. To meet its targets, the company is officially expanding into Mexico and Canada in the summer of 2021, including leveraging family connections of current U.S.-based influencers. Further down the road, Farmasi is poised for an expansion in Asia, particularly Japan and Korea. Stay tuned.