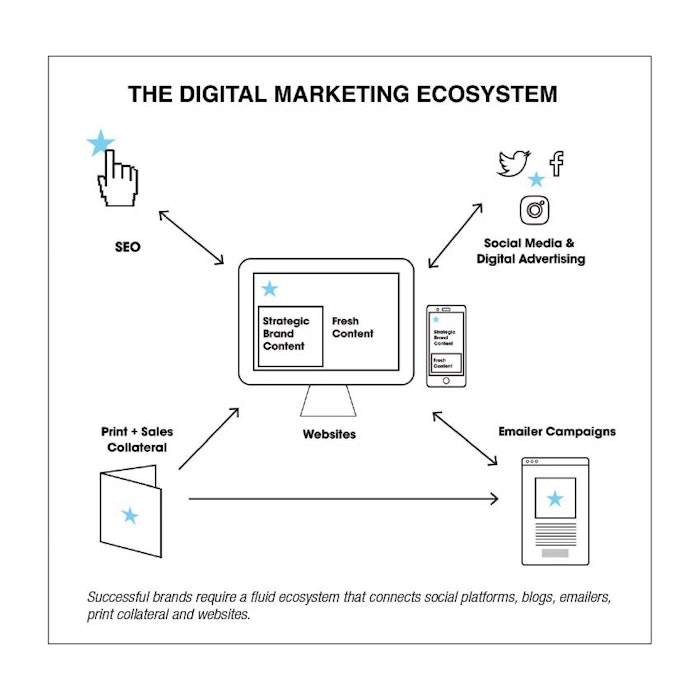 Successful beauty brands are in constant dialogue with their followers, building new relationships while nurturing current ones. To achieve this, you need to create a fluid ecosystem of pathways that connect your social platforms, blog, emailers and print collateral. These all feed to your brand's digital home, the website. If done successfully, this system provides entry points for both new and existing customers, allowing for the exchange of fun, valuable content, while leading to sales.
From Stranger to Repeat Customer
The process begins with awareness—gaining maximum exposure to the right people. Once you reach your audience, you need to entice and educate them with content that speaks directly to their needs and motivations. Those that see the value of your product offering will then be ready to buy your product on a conversion-friendly site.
Brands with powerful digital ecosystems are able to turn strangers into followers, followers into customers and customers into repeat customers. There are many ways to do this at varying complexities and price-points. For brands looking to take their first steps, these methods are a good place to start.
4 Awareness Tools
This stage is about building consumer consciousness of your brand.
1. Organic SEO and Authority Building
The starting place for successful digital content is a smart SEO strategy, optimizing your content both on and off your website. On-site SEO is about properly placed keywords, which should be defined during the content planning stage. These phrases come directly out of your brand story and should represent the way your target customers search in their own natural language.
Off-site SEO is about getting links to your site on prominent media sites, beauty and lifestyle sites, and blogs. Write articles and look for places to engage with potential customers. Your efforts will enable your brand to get exposure to the followers on each of these sites, while raising your own site's ranking.
2. Social Media
Command two or more platforms that align with your brand's content. Focus on sites where your target audience will be most receptive to receiving information from you. Since beauty is so mood-driven, platforms that focus on imagery are always a best bet.
Facebook is great for broad exposure. It is essential to include images or videos in your timeline posts, which statistically get the most engagement. Plan to use paid advertising and boost important posts, such as those related to a specific campaign.
Set a budget and target a specific demographic to get your message to the most appropriate audience. In addition to posting on your timeline, you'll want to engage with users in relevant groups. Participate in discussions, link to articles, and give free advice in an effort to get people to like your page.
Instagram is an absolute must for beauty brands. The best way to tap into the community is to encourage fans to feature your product in their images. Most power-Instagram users want to be famous, so it's a win-win! Getting your brand into their images exposes you to all of their followers.
Twitter is good for listening and building relationships with influencers and customers. Find trending hashtags that are most relevant and follow people that use this hashtag. As you start to build a network of followers, consider introducing a unique on-brand hashtag that your followers will want to adopt.
3. Influencer Marketing
Again, social media should be used to tap into the power of influencers. Depending on your category, this may include stylists, doctors, health gurus and beauty advisors. If you can get them on board with your brand's message, their loyal fans will follow along!
Keep in mind this is a pay-to-play space, so be prudent. If your budget is tight, do a paid campaign for a short, concentrated duration in order to gain followers. Then you can engage and follow up, before repeating the same process.
4. Print Collateral, Sample Packs and In-Person Events
Yes, this is an article about digital marketing, but don't underestimate the power of tangible promotions. If an idea or campaign has traction on digital, solidify it in print. Making something tangible naturally makes it more special and memorable. If done effectively, a printed piece or sample pack should serve as a reminder to go online later, driving consumers to your website with a clear call to action.
Do your research to understand where your followers are likely to hang out, and get sample packs into those places. This may include relevant retailers, tradeshows, salons or spas.
Consider Birchbox or other sampling/subscription boxes to reach a large network of beauty enthusiasts. Remember that this will be your first impression, so it's important to include enough of the brand story that potential customers are enticed to learn more and go to your website.
With a bit of science and creativity, using a combination of these methods is a sure way to get you found. You are reaching people in the places and platforms they go to regularly, where they will be most receptive your message. Without these promotional efforts, potential customers may never discover your brand.
Education
The education stage is about building interest and brand love. It starts with great content on your social platforms and continues on your website.
Product education is the fuel to engage with your followers. And we're not talking about long passages of boring copy that describe what your product does.
Successful education is highly visual, interactive, fun and shareable. It comes in many forms, including get-the-look videos, product tips and tutorials, interviews with influencers, before-and-after stories, ingredient features, technology visualization—the opportunities are endless. The idea is to create informational and aspirational content that speaks directly to your customer's pain-points and motivations.
Education can also be less product-centric and focus on brand values. You can bring awareness to a related issue through a cause marketing initiative, or show a more authentic side by posting about your office/employee culture.
Consider the flip side for a second. Brands without education struggle to find relevant things to say, resulting in reduced engagement. To overcompensate, they offer too many product promotions and discounts, leading customers to expect regular offers, which equates to lost revenue. In contrast, brands that offer valuable education are able to forge deeper, more loyal connections with their customers.
Education should be sprinkled everywhere in the ecosystem. Content on your social platforms and emailers should be excerpts that tease more extensive content available on your website. More specifically, emailers are a great way to directly engage with customers on your mailing list, offering content and personalized tips that they may have missed during the week.
To put your customers on the path toward conversion, be sure to display products alongside educational features. On your website, there are two places this can be done. On your blog or news pages, you can have an area with links to product pages, related to the content of your article. On individual product pages, this strategy should be done in reverse.
Have educational excerpts such as ingredient features, clinical trials or brand ambassador endorsements. This content serves as validation, so visitors discovering a product for the first time won't need to leave the product page to learn more.
Conversion
This final stage is about making it so simple for customers to buy that they can't resist. Once you've enticed your followers with great educational content, you have earned their trust and they will be in a purchasing state of mind.
Now they should be led to pages where products are available for purchase.
Navigation and Features
It is imperative to gain a good understanding of how your users search for information in the category, which informs the navigation and feature set. Some customers may search by benefit, while others may search by problem, step in the beauty regimen or ingredients. User tests can provide valuable insight before making crucial navigation decisions.
Filtering on product landing pages should be tied to the size and variety within your product line. If you have a robust offering, having the right filters and sorting tools can make or break the experience. For smaller product lines, keep it simple; don't over-scale with extra features that people won't use. A good user experience connects visitors to the right product for their needs in the quickest possible way.
Individual Product Pages: Content + User Experience
When users finally arrive on your individual product pages, you need to make it as easy as possible for the user to buy. This is accomplished through a delicate balance between having the right content on the page and good user experience.
Individual product pages need to leave as little to the imagination as possible. In the digital world, users don't have the luxury of being able to touch your product, so you need content that directly makes the case for the product. This should include:
Multiple views of the product with the ability to zoom.
Full transparency about what's inside product. Be sure to repeat the full product description and ingredient list as text on the page.
Reviews and testimonials from customers.
Endorsements from brand ambassadors/influencers.
Social proof—social media feeds that showcase customer-generated content.
Clinical trials, if they are available or appropriate.
Key ingredients and proven benefits.
Third-party endorsements or seals, which could include beauty awards.
Having this content serves as validation and prevents customers from leaving the product page to go elsewhere. Including the right content on the page is half the battle, however. The other half is about making smart design decisions for a seamless user experience. Space, color and typography should be used to clarify information and visually lead users to purchase areas.
Indisputably, the most important call to action on the individual product page is the buy button. Color should be used to bring this to the top of the visual hierarchy so it is clearly distinguished from other secondary links on the page.
Turning Customers into Repeat Customers
We've explored the journey of courting strangers and turning them into customers. However, the digital ecosystem is far from linear.
At the same time, you should be using the touchpoints to engage with existing customers in order to turn them into repeat customers. To do this effectively, make sure the educational and fun content you are putting on social media caters to both new and repeat customers.
Continually drive fresh content to your site in the news/blog section, so customers have a reason to come back. When customers return to your website, reordering and replenishment should be very easy. If they are logged in, their previous order should be no more than one click away.
Assess, Adjusts and Repeat
Once you have built this system and used it for a period of time, remember to test and assess what is working and what isn't. Make adjustments and test again. There is no one-size-fits-all solution. Brands that are able to be nimble and adapt, win. Your efforts will pay off with long-term growth.
_________________________________
Sheri L. Koetting is the co-founder and chief strategist of MSLK, a marketing and design agency based in New York. MSLK specializes in helping beauty brands find their voice in today's crowded marketplace through 360° brand positioning—from overall brand strategy to brand identity, packaging, retail experience, websites and social media campaigns. Contact: [email protected].