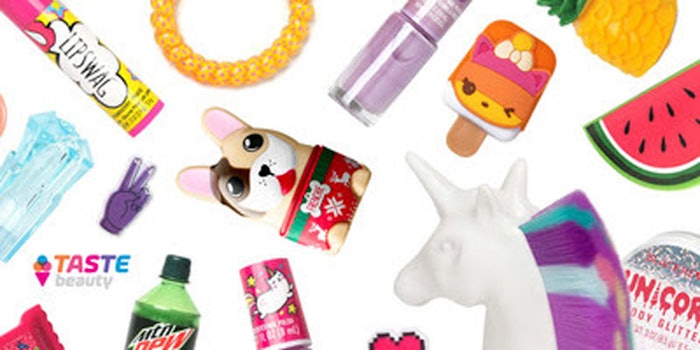 Taste Beauty, best known for its flavored lip balms, has announced a new diversified business structure that will help propel the brand into the "next phase of growth."
Alex Fogelson, managing partner of Taste Beauty, explained, "We believe this structure will allow us to be an even more nimble, flexible and creative resource for the marketplace. This new model comes on the heels of closely listening to our customers and partners, and their needs in the rapidly evolving retail and media landscape."
The New Structure 
Taste Beauty: A beauty brand for Gen Z—"inspired by pop culture, incredible flavors and products you can't resist sharing on social media."
Taste & Friends: "Licensing partnerships with world's most iconic, evergreen brands and characters to create unique, safe and high-quality beauty and personal care products for all retail channels." Current partners include Disney, Nickelodeon, Universal, General Mills and Pepsi.
Taste Labs: "Brand and product development incubator. Taste Labs builds brands, launches new innovative products and orchestrates exclusive collaborations with retailers, media companies and lifestyle brands to bring big ideas to life."
Taste Beauty is reportedly confident this new platform will allow the company to maximize its current and future opportunities while offering an even greater level of service to its partners.