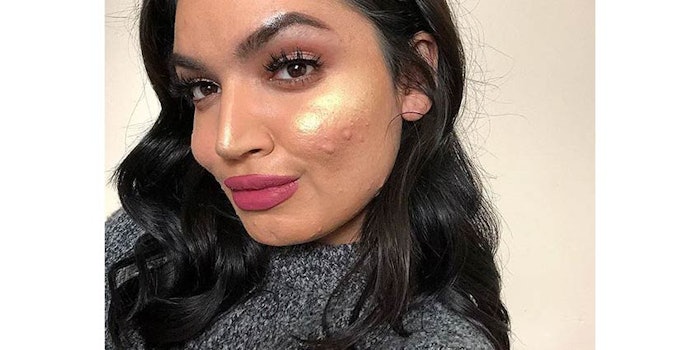 @emeraldxbeauty/ via Instagram
L'Oréal is facing major backlash after reports surfaced that the company cut ties with beauty blogger Kadeeja Khan because they "can't work with people with skin issues," according to Metro.
Khan told the publication that the brand approached her via Instagram, seeking people with "bad skin" for a project. "They wanted us to talk about our skin and the effects it has on our daily life," said. "When I agreed to the campaign, that's when I received the email with 'L'Oréal can't work with people with skin issues.'"
"'L'Oréal can't be involved with people with skin issues (question of regulations) that's why they decided to change the line of the project at the last moment," reads the email. "We're so sorry given that we liked a lot what you are defending, you were very interested in this project and you tried to organize your family life for us."
Related: The Dangers of Mixing Beauty and Politics
The cosmetics giant attributes the gaffe to a mix-up, saying in a statement: 'We deeply apologize for any upset caused, and have made direct contact with the individuals involved to clarify this unfortunate misunderstanding. The photoshoot was designed to support a new hair color launch and feature hairdressers and lifestyle bloggers. Unfortunately, a misunderstanding resulted in the agency casting bloggers with skin concerns for this shoot. This resulted in the wrong profile being cast, which was then poorly and insensitively communicated to the individuals concerned. We do not have regulations in place that restrict us from working with people with skin conditions. At L'Oréal we work with women and men with all skin types and celebrate beauty in all its diversity."
L'Oréal is familiar with brand ambassador controversy: In September of 2017 the company ended its partnership with trans activist Munroe Bergdorf  over statements she made regarding racism, and in early 2018 Amena Khan—the first hijabi model to front a L'Oréal ad—stepped down over 'anti-Israel' tweets from 2014.