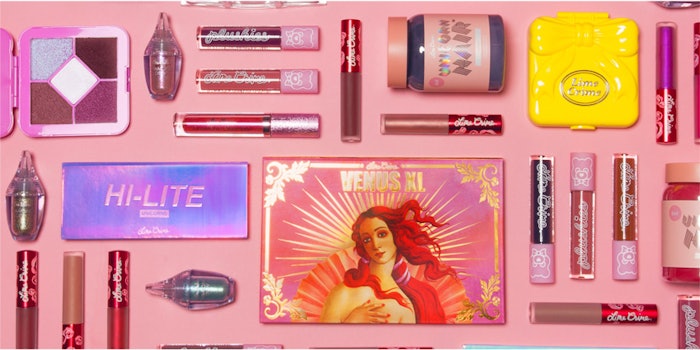 Lime Crime has been acquired by Tengram Capital Partners. 
This acquisition is meant to support Lime Crime's growth strategy. The brand will continue its "digital-first" approach and focus on Limecrime.com, while also pursuing select retail partnerships to make its products available to more consumers. After listening to its fanbase, LimeCrime is also reportedly "creating a broader selection of products, introducing new categories and bringing its innovative formulations to further enchant the Lime Crime global community."
Additionally, Stacy Panagakis will join Lime Crime as CEO. Panagakis most recently served as general manager of Fresh and has held executive roles at several other beauty brands, including Origins Natural Resources, Stila Cosmetics and Clinique. Effective June 18, 2018, she will take over the creative vision of Lime Crime and will work closely with chief creative officer, Sasha Valentine.

Panagakis said, "I'm delighted to be joining the company at this pivotal moment. Lime Crime is a millennial brand with a message that resonates with women everywhere—'it's OK to be bold, experiment and have fun!' The partnership with Tengram is an important next step in the brand's evolution, bringing deep industry expertise and greater opportunities to offer unicorns and women everywhere the Lime Crime magical universe. As we expand the brand's footprint and offerings, Lime Crime will continue to be a brand that stands apart, fulfilling its mission to revolutionize makeup, empower women and smash traditional boundaries."
Richard Gersten, Partner at Tengram, stated, "Lime Crime is truly unique among beauty brands, with a powerful following and a deep understanding of its consumers and their expressive approach to cosmetics. We have tremendous appreciation for what [Doe Deere, Lime Crime's co-founder], Sasha Valentine and the team have built over the past ten years: a revolutionary brand that empowers consumers to express themselves and inspires them to push past the traditional limits of beauty. In an era of beauty brand proliferation, Lime Crime's authenticity and innovation stand above the rest. Lime Crime is a tremendous fit in our strong portfolio of beauty brands, and we look forward to leveraging our experience to help the Lime Crime team achieve its growth prospects."