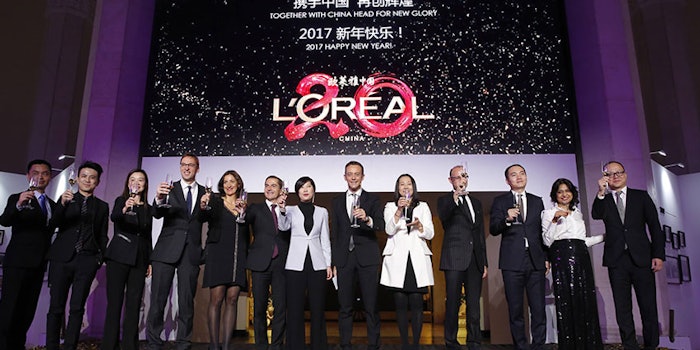 2017 marks L'Oréal's 20th anniversary in China. To commemorate this major milestone, L'Oréal China's CEO, Stephane Rinderknech, and the L'Oréal China executive committee have reviewed what the last 20 years have looked like and what they can expect from the future.
Looking Back
Prior to 2007, L'Oréal China became the 10th largest market for L'Oréal Group, complete with one headquarter, on R&I center, two plants, four business divisions with 15 brands
In 2010, L'Oréal China saw strong growth, most likely due to China becoming the world's second largest economy that making it the third largest market of the L'Oréal Group
It achieved sales of RMB 10 billion in 2011 and became the top category out of six categories in the China beauty market
Moving Forward
The company is striving to build a "new L'Oréal China" with the vision of "beauty for all." This means it's looking to be more Chinese consumer-centric, more aspirational, more digital and more sustainable.
In 2016, Ultra Doux entered the market and brought natural formula to Chinese conumers
La Roche-Posay has entered the mom and baby market in China
L'Oréal China has started using consumer-loved spokespersons and celebrities
The company has taken advantage of the Internet by consolidating leadership in channels both offline and online
It will continue to fulfill its sustainability commitment that has reduced CO2 emissions by 42.3% and reduced water consumption per finished product by 53.8% since 2005
L'Oréal China has also partnered with the China Women's Development Foundation and launched the L'Oréal China Women's Empowerment Fund, which aims to finance 20 project around the country in order to build Chinese women's self-esteem and self-confidence through education, environmental protections and sustainability domains
Mr. Stephane Rinderknech, CEO of L'Oréal China, said, "Taking this opportunity, I would like to thank everyone of L'Oréal China for their contributions, our partners for your tremendous supports and our consumers who trust us. L'Oréal has accompanied three generations of Chinese consumers. We believe that beauty can not only make us look stunning but also change our lives by bringing us confidence, happiness and fulfillment. 20 years success is just another starting point, and for next 20, 40 years, even a century, I'll be honored to continue this adventure together with our great China team to achieve new heights!"