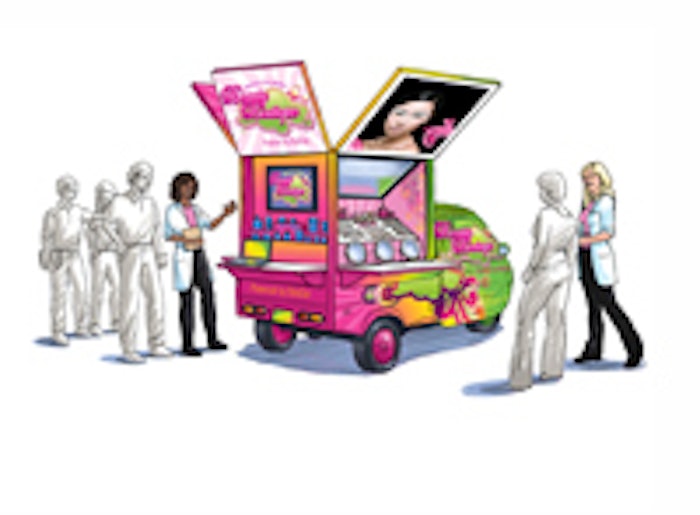 Two industry trail blazers are joining forces to bring a new marketing and retail concept to the beauty and personal care industry. Benjamin Cohen, founder and president of BobCar Experiential Media, announced Annette Green, president emeritus of The Fragrance Foundation, as BobCar's first-ever beauty brand spokesperson. Green is bringing her more than 40 years of experience to this new, patented retailing/marketing concept—the BobCar Mobile Beauty Boutique. Together they will make available a new option for retailing outreach, allowing beauty companies to provide hands-on product information, education, demonstration and sales literally on the streets of America.
"We're so pleased to welcome Annette to our team," said Cohen. "Her expertise and years of success in the fragrance and beauty industry will facilitate BobCar's growth, as we alert this industry to a powerful marketing tool, never before available in the consumer marketplace."
"Beauty-conscious consumers love touching, feeling and trying out the latest in cosmetics, fragrance or personal care products," Green observed in the announcement. "The total BobCar concept captured my attention and enthusiasm. I believe this breakthrough innovation will influence the future of educational and experiential marketing, as well as consumer purchasing patterns."
"With the BobCar Mobile Beauty Boutique we'll have the zero-emission electric vehicles in highly trafficked areas where people can speak with trained brand ambassadors, try the latest colors, smell new fragrances and experiment with beauty care products. It's a new and easy way to involve consumers whenever they leave their homes, office, entertainment centers or just make the street scene," said Cohen. "Customers are stimulated to visit stores to purchase the products they have just discovered and experienced in the entertaining BobCar environment, and our patented BobCars have already increased sales figures up to 200% in past campaigns with some of our technology-based clients. That's real selling power, and we are fully synergistic with the local stores' efforts. A definite win-win for all concerned."