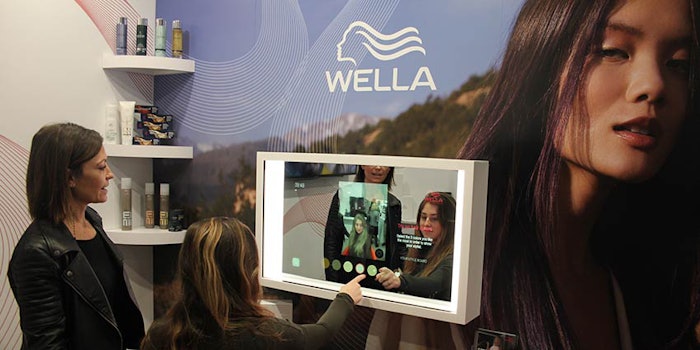 At the 2020 Consumer Electronics Show (CES) in Las Vegas, professional hair color company Wella Professionals unveiled two smart technology innovations set to shape the future of the augmented hair salon experience: Smart Mirror and Color DJ.
Related: L'Oréal Announces Garnier Hair Color Try-on Through Google Lens
Smart Mirror
Developed in partnership with CareOS, a CES 2020 Innovation Awards Honoree, Smart Mirror enhances the hair color experience from consultation to aftercare with live augmented reality (AR) hair color try on, facial recognition that enables the retrieval of past looks, and 360° video capture to view the hair at every angle. The Smart Mirror uses touchless technology that responds to swipe hand gestures enabling a seamless experience.
Smart Mirror also offers a curated feed of content, including trending and classic looks, to allow the client to browse for inspiration, as well as a connected mobile application, allowing stylists to stay in touch with their clients in between visits. Clients can also access the platform from anywhere to connect with their stylist, get product recommendations, personalized tips and trends or schedule their next appointment.
Color DJ
Color DJ is an in-salon device for stylists to design and produce ultra-personalized color masks digitally. With over 60 billion color combinations possible, in addition to personalized levels of conditioning properties and fragrance, salon clients walk away with a bespoke, take-home product completely tailored to their needs.
The tech is accompanied by a digital ecosystem, where formulas can be stored, shared in the salon, used again and again for the same clients or be slightly modified according to seasonal trends while respecting data privacy.
"These innovations speak to our commitment to advance the experience of hairdressers and salon clients," said Sylvie Moreau, president of Coty Professional Beauty. "These are not one-off gimmicks they are mainstream changes which will future-proof and help drive growth of the salon professional industry."
"Our brands have a deep heritage in supporting the salon industry, and the launch of the Wella Digital Salon Platform reimagines that support in the digital age," said Chris Chesebro, senior vice president, digital transformation and e-commerce at Coty Professional Beauty. "We'll be using 2020 to build our foundation, launching in a number of salons to help build the model. The platform is powered by CareOS, allowing us to aggregate services and information from many sources and to help empower hairdressers and salon owners to more efficiently manage their business–not to mention, offer new & innovative services to their clients."