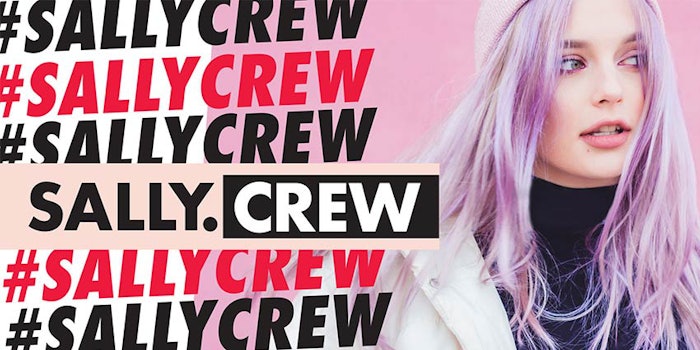 Sally Beauty Holdings, Inc. has entered the next phase of its nationwide search for its first #SallyCrew, which currently has 1,157 applicants and five slots to fill.
Previously: Sally Beauty Announces Multicomponent Brand Relaunch
Between February 17 and March 13, 2020, participating influencers will share a video on Instagram detailing why they are the perfect fit to represent Sally Beauty as an official brand ambassador.
Beauty enthusiasts are encouraged to shout out their favorite influencers on Instagram using the hashtags #SallyCrew and #SallyBeauty. The company will then select 25 semi-finalists. The inaugural #SallyCrew members will be announced in May 2020.
Once the semi-finalists are selected, they will promote special category products on their social platforms to showcase how they can bring the "power of pro" to their followers. Fans will be able to support their favorite semi-finalists by voting, in addition to shopping their curated product picks on Sally's website.
The ultimate #SallyCrew will comprise experts in the categories of hair color, hair care, textured hair care, cosmetics and nails. Each will receive a contract worth up to $150,000, which includes professional business coaching, access to free products prior to public launch and spokesperson opportunities with the brand.
A strong candidate embodies the 'Unleash Your PROtential' motto by using knowledge of the beauty industry to offer inspiration and instill confidence in Sally customers to achieve professional results at home.
"Encouraging self-expression and inspiring at-home pros are at the core of the new Sally Beauty," Carolyne Guss, group vice president of marketing at Sally Beauty, said. "For these Instagram videos, we encourage influencers to show us how they embody our new mission to help consumers 'Unleash their PROtential'. We're excited to see how these content creators engage their followers to secure one of the coveted positions."