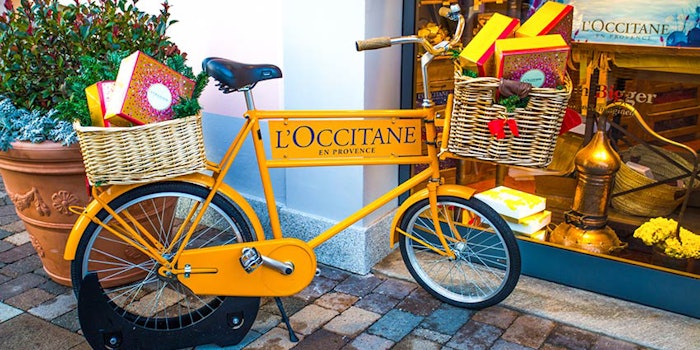 L'Occitane International S.A., which was recently profiled by this publcation, has released its Q4 2020 and full-year results, totalling €338.0 million and €1,644.1 million, respectively. Despite COVID-19, fiscal year 2020, which ended March 31, 2020, observed growth of 12.8% at constant rates and 15.2% at reported rates year-over-year, due to a strong first three quarters.
Related: L'Occitane Q3 and 9-month 2020 Sales Rise
The €338.0 million in net sales for Q4 2020 displays a decline of 1.6% at constant rates and 0.7% at reported rates year-over-year.
Previously: How L'Occitane Grew Net Sales by 22% in FY 2020
In January 2020, the company maintained momentum, but its business operations in the subsequent two months were seriously interrupted by restrictive measures imposed by governments around the world in response to the COVID-19 pandemic such as travel bans, lockdowns and shop closures mostly in China, Hong Kong and Japan. Its retail, travel retail and B2B channels were the most affected.
On the other hand, e-commerce, marketplace, web partners and TV channels all posted significant growth and compensated for some of the decline in brick and mortar channels.
Geographically speaking, despite the economic downturn in Q4 surrounding COVID-19, the Taiwan, U.K., Russia and U.S. markets still saw year-over-year growth, while the Hong Kong market was the most significantly impacted, reporting a decrease in sales totalling €12.1 million.
In terms of geographic areas, the United Kingdom was the fastest-growing market in Q4 with 164.5% growth, followed by the United States with 14.4% growth. Growth in both these countries was driven by Elemis. Taiwan achieved growth of 5.6% in Q4, thanks to its timely campaign that boosted sales of hand care products.
Among the other geographic areas, Korea posted the fastest growth of 18.8% in Q4, a result of the group's continuous success in marketplace campaigns especially for hand washes, hand creams and pillow mists.
As for the full year results, the Hong Kong market was the only to post declined rates as opposed to growth.
"The global COVID-19 pandemic is an extremely challenging period for all of humankind," Reinold Geiger, chairman and CEO of L'Occitane, said. "We are committed to doing everything we can to meaningfully support healthcare authorities and health care workers around the world. We also take the welfare and safety of our workforce and customers extremely seriously and we are following the advice and guidance of local authorities closely. I continue to be inspired by the resilience and solidarity shown by our team in donating hand sanitizer and other hygiene products to support the global relief effort, in line with our corporate values, while still maintaining our day-to-day operations."
Geiger concluded, "While it is too early to gauge how the COVID-19 pandemic will impact our ongoing performance, we are taking various steps to minimize the fallout from the very serious turndown in business. This includes optimizing our cost structure while ensuring that we maintain the capacity to resume growth as strongly as possible when the conditions allow. We believe that the inherent strength of our brands, our careful management and our passion for our work will lead us back to growth in the future."