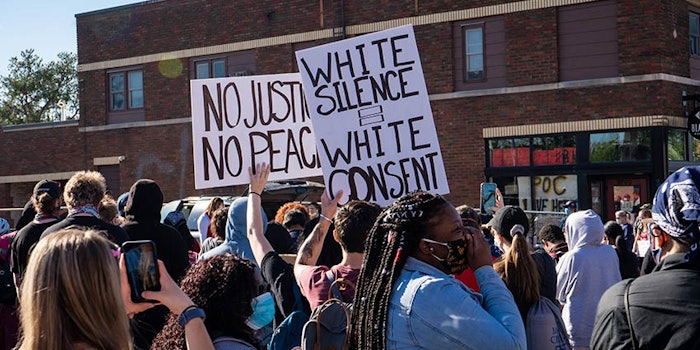 Mixing marketing with social justice and politics can be tricky business. But doing nothing could easily be worse. As the United States has erupted in social justice and anti-racism protests following the killings of George Floyd, Ahmaud Arbery and Breonna Taylor, AdWeek has noted that consumers want a greater commitment to social justice from brands beyond sloganeering and social media posts. This is particularly true in the beauty world.
For instance, on May 29 @NyxCosmetics posted "...and we're not okay. We stand with our black community, and will be donating to the @MNFreedomFund and @Blklivesmatter."
Commenter @therubystarlit seemed to sum up the more meaningful moves demanded by the public: "Makeup brands we're sick of the quotes... HIRE BLACK PEOPLE!!!! PUT BLACK PEOPLE IN YOUR CAMPAIGNS!!!!! ADD US ON YOUR PR LIST. Make shades for us THE FIRST ROUND! YOUR QUOTES Are tone deaf when you repeat the same behavior."
A satirical Twitter post goes further, offering an example of what not to do:
A statement from [Brand]® pic.twitter.com/XT9tXF9hvz

— Chris Franklin (@Campster) May 31, 2020
Other brands responded with a wide range of engagement:
@glossier reported a donation of $500,000 to Black Lives Matter, We The Protesters and other allied organizations.
Beautycounter's Instagram stated, "We stand for safety, but racism is putting black lives in danger every day. We stand for sustainability, but staying silent about social injustice is not sustainable. We stand for transparency—and we need to talk about the divide in this country. The fact of the matter is: we need to do better. Let this be an opportunity to take a stand and have collective healing—so our children can learn from our mistakes and no child will have to grow up afraid. Let's do better...together."
Anastasia Beverly Hills, @ABHcosmetics, stated, "ABH has full intentions of supporting the movement financially. Yesterday, we learned that the Minnesota Freedom Fund was asking for donations to be rerouted and we started to research where else we could make an impact. We'll announce our new initiatives & keep everyone posted."
@sundayriley declared: "In honor of #GeorgeFloyd and everyone fighting today for equality and human rights, we have committed to a $50,000 donation plan to @NAACP_LDF. We are looking to do something more grassroots in our hometown of Houston. Stay tuned."
Fenty Beauty's Instagram posted a statement from its founder, Rihanna: "For the last few days, the magnitude of devastation, anger, sadness I've felt has been overwhelming to say the least! Watching my people get murdered and lynched day after day pushed me to a heavy place in my heart! To the point of staying away from socials, just to avoid hearing the blood curdling agony in George Floyd's voice again, begging over and over for his life!!! The look of enticement, the pure joy and climax on the face of this bigot, murderer, thug, pig, bum, Derek Chauvin, haunts me!! I can't shake this! I can't get over an ambulance pulling up to an arrest, a paramedic checking a pulse without removing the very thing that's hindering it! Is this that fucking normal??? If intentional MURDER is the fit consequence for 'drugs' or 'resisting arrest'....then what's the fit consequence for MURDER???! #GeorgeFloyd #AhmaudArbery#BreonnaTaylor"