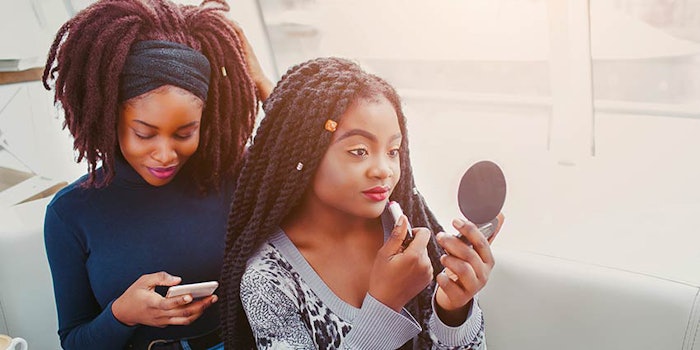 Karim Orange is an Emmy-nominated clean makeup artist, clean beauty and wellness writer for Organic Spa Magazine, and artistic director of the Clean Makeup Academy.
African Americans spend $1.2 trillion each year on personal care products, according to Essence Magazine, and that number is projected to rise to $1.5 trillion by 2021.
In 2017 African American consumers represented 86% of the ethnic beauty market, accounting for $54 million of the $63 million spent, Nielsen reported. In 2017, African Americans spent $127 million on grooming aids, and $465 million on skin care.
Despite this huge market, clean beauty brands still fail to take advantage of the expertise and know-how of professional African American makeup artists and other professionals in developing and marketing products sold to African Americans and women of color.
I am an Emmy-nominated makeup artist, beauty expert and writer. I have been in the clean (green) beauty space since 2002. Elle Magazine has referred to me as a "green star." My clean beauty advice was recently quoted in Glamour.com.
It is clear to me that there are several straightforward ways in which brands can improve quality and increase market share while simultaneously creating a more diverse, inclusive workforce. Here are a few suggestions on how brands can achieve the goals cited.
Analyze the current demographic makeup of your staff and set aggressive but realistic goals to increase the diversity of staff and management.
Set goals for increasing the diversity of non-employee outside consultants.
Diversify spokespersons and the use of models.
Use descriptions of products that we identify with.
Create jobs and opportunities for us and not just shades to sell to us. 
These recommendations are made based on my personal experience in the industry, and conversations with numerous African American professionals in the business. 
I have personally witnessed the following, due to a lack of the above mentioned: 
Brands creating a product with shade names like light, medium, dark, and ethnic.
Brands using a non-African American makeup artist in a tutorial featuring an African American model. The makeup artist referred to our skin as ashy which is both derogatory and offensive to any African American person watching the video.
Referring to African American skin tones incorrectly on charts at your retail accounts. Women with the skin the shade of actress Kerry Washington is not considered "dark" to most African Americans.
Teaching your sales team to sell African Americans two products in the same situation, where a white person would only require one.
It is time to create real opportunities for African Americans within your company! Profiting from our beauty will no longer be enough. Fight for equality within your company the way you fight for clean ingredients.
Sincerely,
Karim Orange