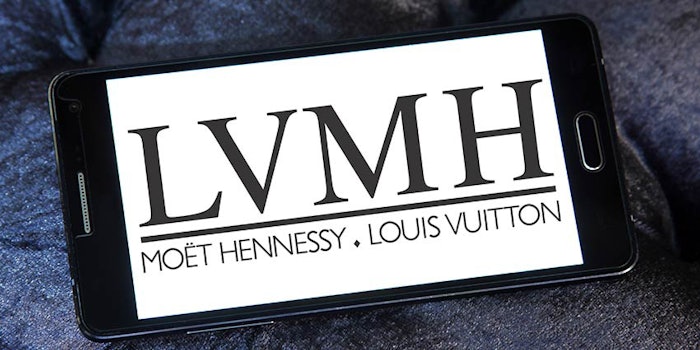 LVMH has reported perfume and cosmetics sales of 3,236 million euros in revenue for the first half of 2020, compared to 2,304 million euros in the same period, 2019. This represents a decline of 29% in organic revenue. The business segment operated at a 30 million euro deficit for the period, compared to a 2019 profit of 387 million euros.
Previously: LVMH execs forego pay.
Digging deeper into the numbers, revenue dropped 19% in the Q1, then fell 40% in Q2, showing an escalating slowdown. Q2 revenue totaled 922 million euros, while Q1 revenue reached 1,382 million euros.
Results were impacted by destocking by retailers, according to LVMH. Big brands reportedly showed resilience amid declines in makeup, reduced retailer stock levels and "a strong increase in parallel distribution channels in which our brands did not wish to participate."
Online sales also supported sales results.
Parfums Christian Dior was buoyed by the launches of Miss Dior Rose N'Roses, the new edition of Dior Homme and the Capture Totale anti-aging skin care.
Guerlain results were improved by Abeille Royale and Orchidée Impériale.
Parfums Givenchy has "been resilient," according to LVMH, while the Fresh skin care brand has momentum in China.
"LVMH showed exceptional resilience to the serious health crisis the world experienced in the first half of 2020," said Bernard Arnault, chairman and CEO of LVMH. "Our maisons have shown remarkable agility in implementing measures to adapt their costs and accelerate the growth of online sales. While we have observed strong signs of an upturn in activity since June, we remain very vigilant for the rest of the year. We continue to be driven by a long-term vision, a deep sense of responsibility and a strong commitment to environmental protection, inclusion and solidarity. In the current context, we remain even more firmly dedicated to showing continuous progress in these areas. Thanks to the strength of our brands and the responsiveness of our organization, we are confident that LVMH is in an excellent position to take advantage of the recovery, which we hope will be confirmed in the second half of the year, and to strengthen our lead in the global luxury market in 2020."