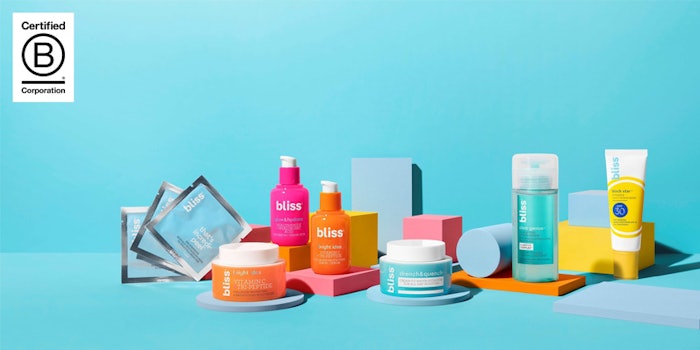 Bliss has reportedly become the first skin care brand sold at mass and drug retailers to receive a B Corp certification. The certification confirms that Bliss meets the highest standards of verified social and environmental performance, public transparency and legal accountability to balance profit and purpose. 
The brand purportedly uses only ethically sourced, high-quality ingredients and has formulated its products to be 90% vegan and 100% clean and cruelty-free.
Bliss also has an official partnership with TerraCycle to ensure that all packaging is 100% recyclable. 
Bliss CEO Meri Baregamian said:
Over the last several years, our commitment to people, animals, and the planet set the stage to successfully submit for B Corp's highly sought-after seal of approval. Only 1% of brands that apply for the certification are approved, and we're thrilled to be part of the select few who lead the way for the future of clean, sustainable beauty brands.
B Corp is the gold standard for businesses doing good and always prioritizing social and environmental values in all their decision making, so we knew that it was a certification we wanted to pursue. We are so excited to see our hard work to date pay off with this outstanding recognition and look forward to building upon the work we've been doing to meet these rigorous standards.