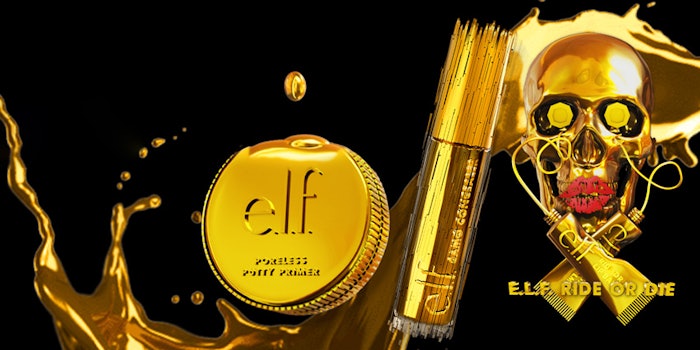 e.l.f. Cosmetics has launched Crypto Cosmetics with three products, the Poreless Putty Primer, 16HR Camo Concealer and Ride or Die Lip Balm, as part of its first collection of non-fungible tokens (NFT). (For the uninitiated, The Verge has a quick explainer of NFTs.)
Related: e.l.f. Beauty Q4, Full-year 2021 Results
NFTs have been criticized for spurring massive unsustainable energy consumption. e.l.f. Cosmetics has addressed this by working with Bitski and NFT sustainability platform Aerial to offset the carbon footprint of the initial transaction of the collection to render it carbon-negative. 
The Dipped in Gold collection offers consumers an animated representation of the e.l.f. products. Each NFT comes with a certificate of authenticity and ownership.
There were a total of nine e.l.f. digital products available through Bitski, which have all sold out.
To develop its Crypto Cosmetics, e.l.f. teamed up with creative agency Movers+Shakers, the agency behind its #eyeslipsface TikTok challenge.
Kory Marchisotto, chief marketing officer, e.l.f. Beauty said, "At e.l.f., we always challenge ourselves to delight our community in new and disruptive ways. We're thrilled to introduce the first in what we plan will be a series of Crypto Cosmetics. With Ne.l.f.Ts, we're bringing the playful e.l.f. wink to some of our most popular products."