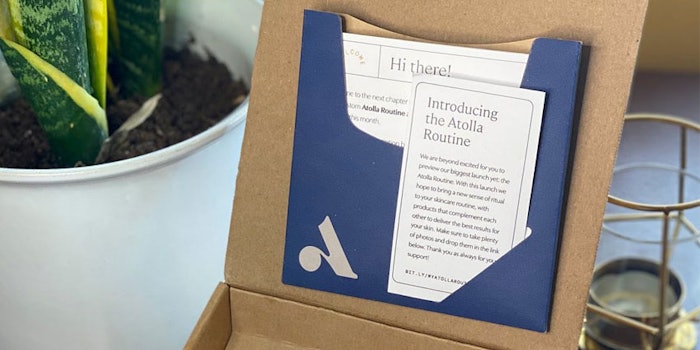 Function of Beauty, a personalized hair care brand that expanded to Target late last year, has acquired Atolla, a personalized skin care brand.
The acquisition will pair Function of Beauty's 3 billion possible proprietary formulations and automated customized manufacturing with Atolla's skin test and data-driven product recommendation system. (Function of Beauty operates its own manufacturing site in Pennsylvania, featuring proprietary filling equipment that is the key to its customization system.)
The combination "will yield the most advanced custom skin care offering available on the market," according to an official announcement.
The companies plan to launch a new custom skin care offering in Q1 2022. 
"Six years ago, we launched the first direct-to-consumer personalized beauty products with customized hair care, which remains the most advanced offering of customized hair care to date on the market," said Function of Beauty co-founder and CEO, Zahir Dossa. "With the acquisition of Atolla, Function of Beauty now has the ability to offer the world's most advanced skincare system—one that is truly personalized to every single customer through the combination of our groundbreaking manufacturing technologies and Atolla's patented skin care system. Function of Beauty is striving to revolutionize the beauty industry by making personalization the new norm, and this is one step further to make that vision a reality."
"We've always been on a mission to change the mass skincare model," said Atolla co-founder and CEO Meg Maupin. "Now more than ever, the beauty consumer is looking for a routine they can rely on, so we created a unique skincare system that is both simple and powerfully effective. With the extraordinary reach and capabilities of Function of Beauty, our patented technology can rapidly expand and we are absolutely thrilled to be moving forward together."