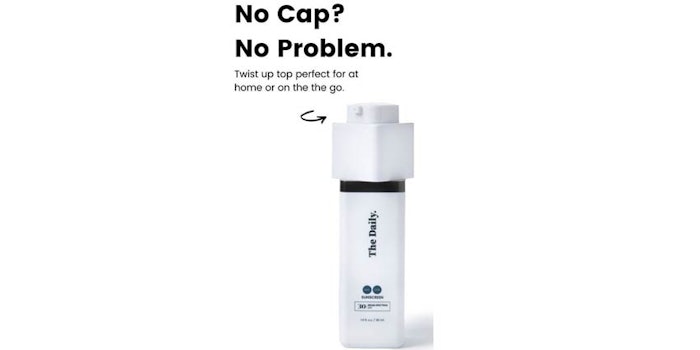 The Daily All-in-One Face Lotion works as a moisturizer, sunscreen and aftershave face lotion.
Related: Amorepacific Invents Transparent Inorganic Sunscreen
It is said to protect against wrinkles and scarring in a one-step routine. 
The lotion features over a dozen nutrients including niacinamide, non-nano ultralight zinc sunscreen and plant stem cell extract.
It is free of parabens, phthalates and gluten. 
The lotion was developed by a dermatologist and third-party clinically tested. It is available for a single purchase or a subscription tier; the three-month tier costs $24.49.
Ingredients: (Active Ingredients) Zinc Oxide 18.75%; (Inactive Ingredients) Almond oil, Alpha-Tocopherol, Ascorbic Acid, Caprylyl/Capryl Oligoglucoside, Caprylyl Glycol, Cetyl Alcohol, Cocoyl Caprylocaprate, Docosanol, Ethylhexylglycerin, Fragrance (Parfum), Glycerin, Glyceryl Laurate, Hexylene Glycol, Hydrogenated Jojoba Oil, Hydrogenated Rapeseed Oil, Hydroxyethyl Cellulose, Lactobionic Acid, Medium-Chain Triglycerides, Niacinamide, Octyldodecanol, PEG-8 Dimethicone, Pentylene Glycol, Phenoxyethanol, Polyglyceryl-6 Distearate, Polyhydroxystearic Acid, Saponaria Officinalis Leaf, Silicon Dioxide, Sodium Chloride, Sodium Propoxyhydroxpropyl Thiosulfate Silica, Valine, Vitamin A Palmitate, Water (Aqua), Yellow Wax.