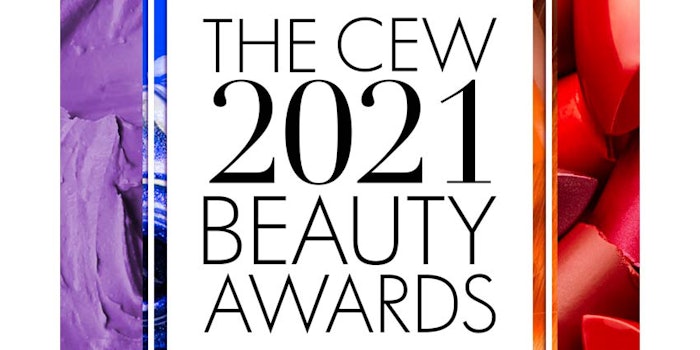 CEW UK has announced the finalists for the 2021 CEW Beauty Awards, which are voted on by professionals within the industry.
Related: 2020 CEW Beauty Awards Winners
For the 10th consecutive year, CEW's Responsible Beauty Award is sponsored by Givaudan. The award recognizes a beauty product or product line that has most significantly moved toward improved sustainability. This is the only category exclusively reviewed by an independent panel of judges.
The winners will be revealed at the CEW Beauty Awards Winners Announcement Lunch on September 24 at the London Hilton Park Lane.
CEW UK Beauty Awards finalists:
SKIN CARE
BEST NEW SKIN PREP – MASS
Balance Me – AHA Glow Mask
M&S – Pure Restore Calm Whipped Day Cream
Skin & Tonic – Plump-Up Hydration Serum
TEMPLESPA – GLOWCOLIC
BEST NEW SKIN PREP – PRESTIGE
Dermalogica – Active Clay Cleanser
ELEMIS – Superfood Glow Priming Moisturiser
Omorovicza – Acid Soultion
BEST NEW SKINTELLECTUAL – MASS
Absolute Collagen – Maxerum
Balance Me – Bakuchiol Smoothing Serum
No7 – No7 Advanced Retinol 1.5% Complex Night Concentrate
TEMPLESPA – BE STILL
BEST NEW SKINTELLECTUAL – PRESTIGE
Drunk Elephant – T.L.C. Sukari Babyfacial
ELEMIS – ULTRA SMART Pro-Collagen Night Genius
Murad Skincare UK – Retinol Youth Renewal Night Cream
Tan-Luxe – Super Glow
BEST NEW TARGETED SKIN CARE – MASS
Balance Me – PHA Clarifying Mist
Dots for Spots – Dots for Spots
The INKEY List – Succinic Acid Blemish Treatment
BEST NEW TARGETED SKIN CARE – PRESTIGE
ELEMIS – Pro-Collagen Tri-Acid Peel
Kate Somerville – DeliKate Recovery Cream
Paula's Choice – Clinical 20% Niacinamide Treatment
BEST NEW MASK – MASS
Balance Me – AHA Glow Mask
Dr. Organic – Organic Guava Face Mask
The Ordinary – Salicylic Acid 2% Masque
BEST NEW MASK – PRESTIGE
Dermalogica – Hydro Masque Exfoliant
Drunk Elephant – F-Balm Electrolyte Waterfacial
ELEMIS – Pro-Collagen Eye Revive Mask
GROOMING
BEST NEW HAIR PRODUCT – MASS
Batiste Dry Shampoo – Batiste Wonder Woman
Beauty Kitchen – The Sustainables Intense Moisture Shampoo Bar
The INKEY List – PCA Bond Repair Hair Treatment
BEST NEW HAIR PRODUCT – PRESTIGE
Drunk Elephant – T.L.C. Happi Scalp Scrub
Living Proof – No Frizz Vanishing Oil
Percy & Reed – Time To Shine Mirror Mirror Shine Serum
BEST NEW GROOMING OR PERSONAL CARE PRODUCT – MASS & PRESTIGE
Mitchum – Mitchum Natural Power Bamboo Powder Invisible Solid
Modern Botany – Modern Botany 100% Natural Deodorant
Molton Brown – Geranium Nefertum Deodorant
BEST NEW BEAUTY TOOL OR ACCESSORY – MASS & PRESTIGE
FaceGym – Multi-Sculpt
Face Halo – Face Halo X
Tangle Teezer – Easy Dry & Go Vented Hairbrush
BEST NEW ELECTRICAL APPLIANCE – MASS & PRESTIGE
CurrentBody – CurrentBody Skin LED Light Therapy Mask
FOREO – BEAR
Waterpik – Cordless Select Water Flosser
DISCOVERY
BEST BEAUTY ICON – MASS
Dr.PAWPAW – Dr.PAWPAW Original Balm
Face Halo – Face Halo Original
Tweezerman – Classic Slant Tweezer
BEST BEAUTY ICON – PRESTIGE
BY TERRY – Hyaluronic Hydra-Powder
ELEMIS – Pro-Collagen Cleansing Balm
Pai Skincare – Rosehip Bioregenerate
Paula's Choice – Skin Perfecting 2% BHA Liquid Exfoliant
BEST NEW BRAND – MASS
Sun Bum
TEMPLESPA
Wild Science Lab
BEST NEW BRAND – PRESTIGE
Decree
Hemsley Organics
Modern Botany
BEST BRITISH BRAND – MASS & PRESTIGE
Charlotte Tilbury
ELEMIS
Emma Hardie Skincare
WELL-BEING
BEST NEW VEGAN BEAUTY PRODUCT – MASS & PRESTIGE
ELEMIS – Superfood AHA Glow Cleansing Butter
Isle of Paradise – Self-Tanning Butter
Pai Skincare – Light Work
BEST NEW WELL-BEING PRODUCT – MASS & PRESTIGE
Bloom and Blossom – Pyjamarama, Dry Body Oil
ELEMIS – Warm-Up Massage Balm
this works – stress check mood manager
BEST NEW BEAUTY SUPPLEMENT – MASS & PRESTIGE
Gold Collagen – Collagen Superdose Skincare
The Beauty Chef – Glow Inner Beauty Essential Supercharged Formula
The Organic Pharmacy – Immune Boost Day
BEST NEW FRAGRANCE – PRESTIGE
Connock London – Kukui Noir Eau de Parfum
Molton Brown – Milk Musk Eau de Parfum
Sana Jardin – Jaipur Chant
BODY
BEST NEW BODY PRODUCT – MASS
Burt's Bees – Res-Q Ointment with Cica
CeraVe – SA Smoothing Cream
Sanctuary Spa – Ultra Rich Wet Skin Moisture Miracle
BEST NEW BODY PRODUCT – PRESTIGE
Molton Brown – Flora Luminare Bath & Shower Gel
Tan-Luxe – Super Glow Body
this works – stress check CBD body polish
BEST NEW SUN CARE OR SELF TAN – MASS & PRESTIGE
Amanda Harrington London – Jet Set Duo
Isle of Paradise – Self-Tanning Butter
Tan-Luxe – Super Glow
BEST NEW HAND OR FOOT PRODUCT – MASS & PRESTIGE
Burt's Bees – Hemp Hand Cream
Margaret Dabbs London – Cracked Heel Treatment Balm
Molton Brown – Orange & Bergamot Hand Sanitiser Gel
COLOR
BEST NEW FACE MAKEUP – MASS
Beauty Kitchen – Raw Inventions Eco Glitter Balm
e.l.f. Cosmetics – Putty Blush
Makeup Revolution – Eye Bright Illuminating Under Eye Concealer
The Ordinary – Concealers
BEST NEW FACE MAKEUP – PRESTIGE
Laura Mercier – Illuminating Pure Canvas Primer
Pai Skincare – The Impossible Glow
Tan-Luxe – Super Gloss
Trinny London – BFF De-Stress Tinted Serum
BEST NEW EYE MAKEUP – MASS
e.l.f. Cosmetics – Lash it Loud Mascara
Honest Beauty – Extreme Length Mascara + Primer
KIKO Milano – MAXI MOD VOLUME AND DEFINITION MASCARA
BEST NEW EYE MAKEUP – PRESTIGE
Charlotte Tilbury – Pillow Talk Push Up Lashes! Mascara
Hourglass – Unlocked Instant Extensions Mascara
NARS – NARS Climax Extreme Mascara
BEST NEW LIP MAKEUP – MASS
e.l.f. Cosmetics – Ride or Die Lip Balm
Indeed Labs – Red and Peach Hydraluron Tinted Lip Treatment
KIKO Milano – Powder Power Lipstick
BEST NEW LIP MAKEUP – PRESTIGE
Charlotte Tilbury – Hyaluronic Happikiss
Code8 – Glazé Universal Lip Gloss
Hourglass – Confession Red 0