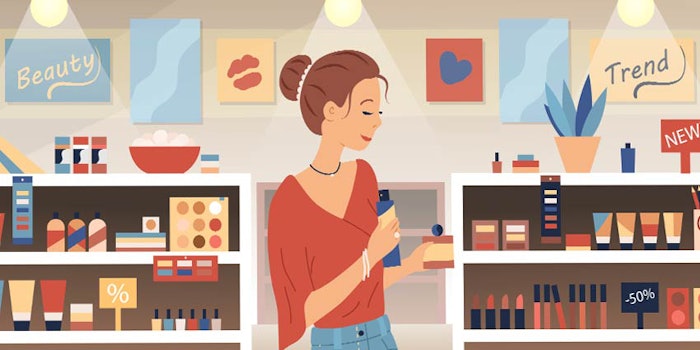 While clean and sustainable beauty dollar growth and consumer interest are outpacing the general beauty industry, new data from NielsenIQ uncovers exactly which ingredient and packaging claims are winning or on the upswing.
NielsenIQ's data shows that total beauty and personal care sales grew 2% in the 52 weeks ending May 22, 2021, while "clean beauty" grew 8.1%.
Formulation & Ingredient Claims
When consumers are shopping, 40.2% claim to look for natural ingredients.
Meanwhile, the fastest-growing free-from claims are:
parabens, up 3.6%
parabens and sulfates combined, up 5%
paraben and sulfates and phthalates combined, up 13%
Products with free-from phthalate claims have jumped 11.4% in dollar growth, while free from artificial fragrance was up 8.1%.
Meanwhile, reef-safe beauty searches have grown 105%, per NielsenIQ.
Beauty and personal care with humane claims posted 14.3% in dollar growth, while cruelty-free grew 27.4% and vegan-certified grew 33.3%.
Packaging
When shopping for beauty and personal care, 7.9% of consumers seek out reusable packaging, per NielsenIQ. Meanwhile, 15.8% seek out recyclable packaging. Meanwhile, searches for refillable formats have grown 93%.
Video: Decoding Sustainable Packaging 
The fastest-growing beauty-related search term is plastic-free, rising 325%.
Sustainability
Gen Z consumers are 1.3 times more likely to want to try environmentally friendly products than the general beauty and personal care shopper population.
Respect the environment is a critical purchase consideration for 17.6% of consumers surveyed by NielsenIQ.
Meanwhile, biodegradable-claiming brands posted dollar growth of 22.2%.
Of the report, Anna Mayo, NielsenIQ's beauty and personal care client director, said, "Consumers are taking a much closer look at the products they're using on a regular basis, with a focus on sustainable and 'clean' offerings that are free from harmful ingredients and practices. Sales for beauty and personal care products that have environmental benefits, such as vegan, cruelty-free, reusable packaging, and plastic-free are surpassing growth rates experienced within clean beauty, but we can expect shoppers to heighten their awareness and consumption of both sustainable and clean beauty products as additional shoppers adopt the trending 'if it's good for me, it's good for we' mindset. As this sentiment grows, retailers and manufacturers need to ensure that shoppers can find exactly what they're looking for through extensive product attribute data, detailed on-package product claims, and in-store assortments organized by benefit."