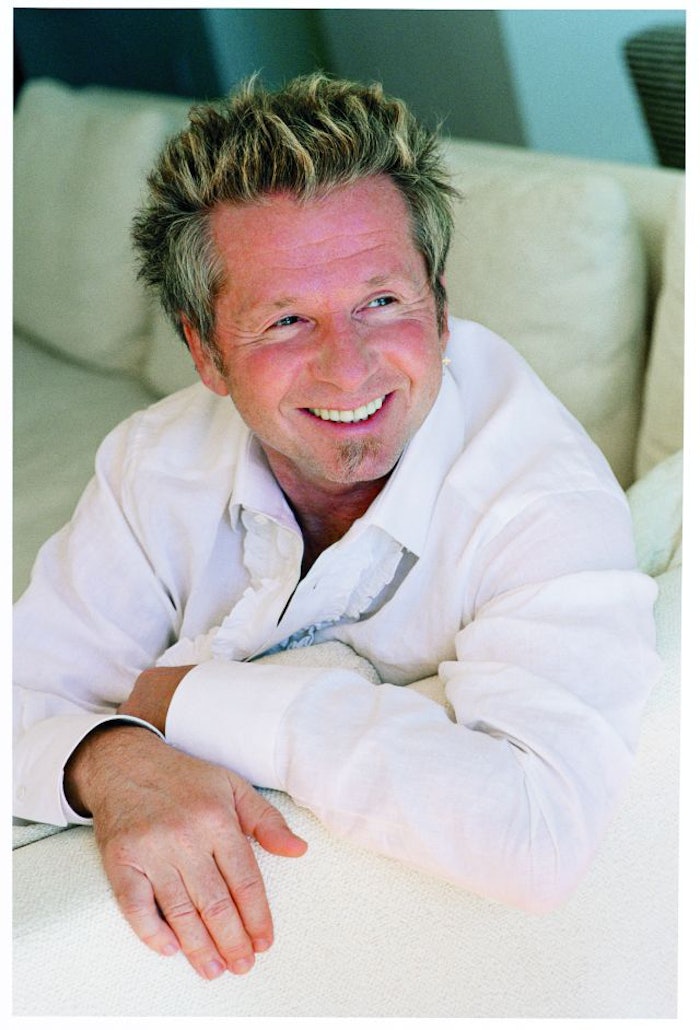 Celebrity hair stylist Laurent Dufourg tells all about his
Privé
line of products.
GCI: What was the creative process involved in formulating the Privé product line, from concept to the shelf?
Laurent Dufourg: I started the Privé line about eight years ago; [it] was a team effort with my team at the time in the first L.A. salon on trendy Melrose, inspired by [my] childhood memory of apothecary in France in Biarritz where ingredients, potions and smells where combined.... I designed my logo in my kitchen.
GCI: How do your products fill a need in the industry?
Laurent Dufourg: Since I still work every day behind the chair or for celebrities, I know what is needed, and I also was tired of carrying two or three bags of products on every fashion shoot. So I admit for selfish reasons I developed and edited a line that works alone or [by] mixing products with one another to change benefits and effects…. [This line is] more efficient and lighter to carry.
GCI: What cosmetic/personal care product can't you live without?
Laurent Dufourg: Finishing Texture Spray.
GCI: What are some of the special treatments given at your salon that feature products from your line?

Laurent Dufourg: Scalp treatment with the Privé Intensive Mask, which is essentially a facial for your hair with complete restorative power and relaxing experience combined with a scalp massage.
GCI: Which products do your clients swear by, specifically?
Laurent Dufourg: Every celebrity I work with adores the Finishing Texture Spray, but especially my dear friend Téa Leoni as we partner each year to give proceeds to her charity of choice to fight breast cancer—a touching subject within the Privé organization.
GCI: What inspired you to found your professional salons?
Laurent Dufourg: To create my own team and use the salon as a creative test lab—also learning from my team every day. The new creative director has so much to teach me; he is the new generation and embodies the philosophy and brand creativity. It is such an inspiration.
GCI: What have been the milestones thus far in your career?
Laurent Dufourg: The week I had Gwyneth Paltrow and Sharon Stone come to me both in the same week for a short hair cut; [it was] a drastic change in their looks and a drastic change in my career. It put me on the map, so to speak.
GCI: What are some of the challenges you have overcome professionally?

Laurent Dufourg: I would have to say product development—from the time we have an idea for a product until shelf time—is really time-consuming. Finding the purest ingredients the right formula, the perfect herb and blend... I am a bit of a control freak, because I'll be using these products 24/7 on shoots, red carpet event, fashion shows and [on] clients, so it needs to deliver and be easy to use, smell delicious and look good.
GCI: What steps should prospective future clients take to start a relationship with your salons?

Laurent Dufourg: The best way is to look at our Web site, which is very user-friendly at www.priveproducts.com or come meet me and my new creative director at our academy classes, which really show our brand philosophy about hair-cutting [and] products, and [it] brings to life our mantra: "You have the talent. I have the tools. Let's beautify the world."
GCI: How do you believe the salon/beauty industry is changing, and what news or trends do you think will be important for professionals to pay attention to in 2008?
Laurent Dufourg: The only one we are focusing on for products is going green. We are intensively working on an eco-friendly line for Privé that will deliver, which is a challenge…. We are also launching [a] talent search for the new top stylists in America called Hot Shots, [during which] we are helping stylists nationwide to be the next thing. Also, American women are back in salons for [a] simple blow dry. Having a good hair day has never been that important... [Having] a relaxing me moment [I something] that everyone deserves after running and working all the time between careers, family life [and] dating life.... Also, another massive trend are men's grooming products. More and more men buy styling products and come to our salons, giving up the barber shop. We are also working on men/women products starting with our new wax, [which came out] in February 2008.
GCI: What are projects on your roster now, and what are your future professional goals?

Laurent Dufourg: To go green, grow our new academy and give a chance to next Hot Shots.