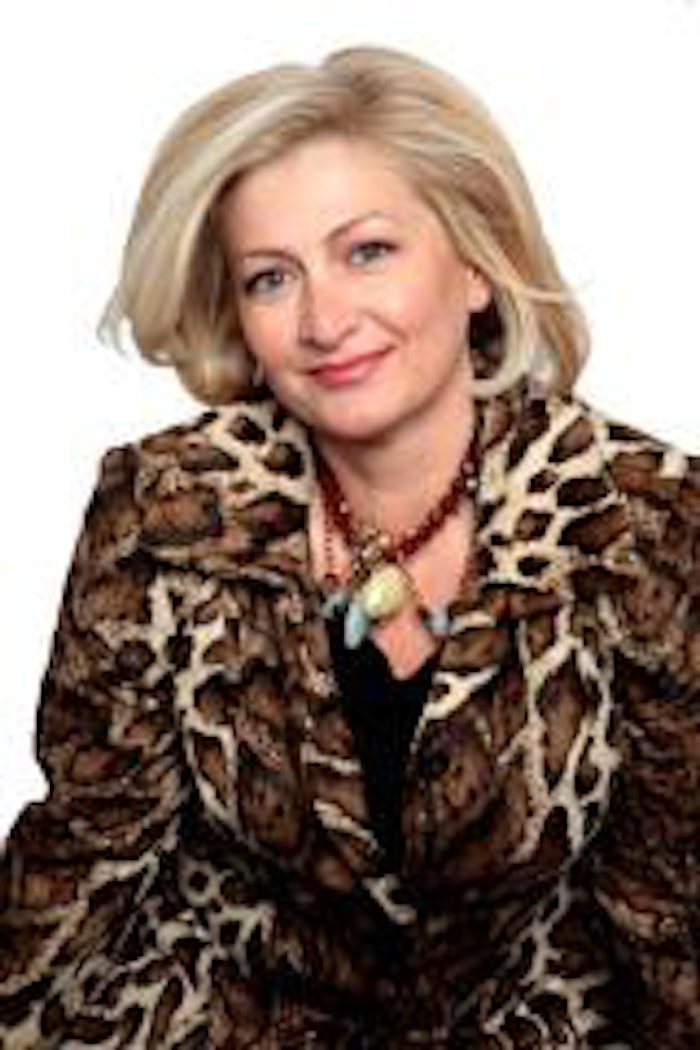 With nearly 20 years experience working in the spa industry, Elaine Sauer began her career as a spa trainer for the Midwest Aveda distributor Salon Systems, as well as the general manager of Kiva Spa and as the regional sales and training manager for Murad, Inc. In 2004, Sauer received her CIDESCO diploma. She now oversees Elizabeth Arden Red Door Spas and
Mario Tricoci Hair Salons & Day Spas
as the corporate spa director for Red Door Spa Holdings. Sauer spoke with
GCI
magazine about Tricoci Spas and the new skin care line she helped create and launch this year—Nature's Alternative.
GCI: What is unique about Mario Tricoci Hair Salons and Day Spas?
Elaine Sauer: We were just voted "Best Spa" from FOX News viewers in Chicago. They like the consistency of service. For myself, I love the innovation and the opportunity to move through trends.
GCI: How do your new Nature's Alternative skin care products fill a need in the spa industry?
Elaine Sauer: Our line development was created with the end user in mind and what our guests are looking for in terms of their needs, which are effective, easy and advanced formulas. We have several audiences in terms of skin care types: blemish-prone, aging, and—rising in the Midwest—is the rosacea or delicate skin conditions.
GCI: How did you decide on the packaging for the Nature's Alternative line?
Elaine Sauer: We looked at what could be used to preserve the efficacies of the products and limit cross-contamination. We tried to get away from white packaging, but then we came full circle. The inner packaging vessels are white and grey—pearlescent. They're unisex.
GCI: Which products do your clients swear by, specifically?
Elaine Sauer: With the antiaging line, we're focusing on an eye nourish serum and a luxurious face firming face and neck cream…. MMP is an enzyme that breaks down collagen and other protein-based structures. The MMPI (Matrix Metalloproteinase Inhibitor) in the Luxurious Firming Face and Neck Lotion is a compound that reduces the effects of the MMP—crease wrinkled, thin and generally dull-looking, aged skin. The refining serum is the key element in our clarifying line. That particular product has totoral, which is found in various plants like cypress, juniper and rosemary. It has antimicrobial properties and prevents scarring and discoloration from acne. The oil-free moisturizer is also a huge hit because of the lightweight formula of gel and lotion. People love it, especially men.
GCI: What are some of the special treatments given at your spas/salons that feature products from your line?

Elaine Sauer: We have our Nature's Alternative Skin Clearing Acne facial and our N.A. Skin Clearing Back Treatment. New for Spring 2008 is the Non-Surgical Facelift treatment, which includes microcurrent, vibrational microderm and light therapy. This is available in a single service but is far more effective to re-educate the muscles in a series, and that is what we recommend for best results.
GCI: What cosmetic/personal care product can't you personally live without?

Elaine Sauer: If I were on a deserted island, I would want the following: SPF of course, but lip treatment I need as well. I prefer balms, and I love concealor! From Bobbi Brown's baby line, I use the body cream. It's got the right amount of cream to make my dry skin look healthy in Chicago winters. Our new Firm and Regenerate Serum for youthful skin; Chanticaille's real skin foundation; Christian Diorshow Mascara…. Hmmn, that's a lot of stuff for a deserted island where no one will see me!
GCI: What have been the milestones thus far in your career?
Elaine Sauer: I had dreams from the time I was a young, young girl to become a cosmetic executive. Being a first child, I had the "boss" mentality, always providing direction to anyone I could! And of course, my current role is the most challenging and rewarding at the same time. It allows me to have creative energy into services and product development, it gives me great satisfaction to work with various team levels in our organization from the front line of general manager and technicians, who inspire me daily, to the great relationships with our vendors to partner in growing our business objectives…. The big leap was transitioning from being a technician to the role I'm in now…. It's been trial by fire.
GCI: What are some challenges you have overcome professionally?
Elaine Sauer: My first speaking engagement was very difficult, because I wasn't trained for public speaking. I was working for Aveda at the time. I did consulting with salons that wanted to add spas…. Managing the e-mail inbox and]paper clutter continues to be a challenge I have not yet mastered, but it is a goal for 2008, so I am seeking the guidance of a professional.
GCI: What is key to balancing your business life and personal life?
Elaine Sauer: First of all, business is a passion. It blends into everything I do, but I find I need to pull the plug sometimes, and then I try to learn something new—either an activity (salsa dancing is the goal this year), skiing last year (which is a new love) and certain poses in yoga continue to challenge me, but I love the time to try. Vacations are a must. I love beach vacations, but Aspen skiing has been great this year. Next year, I plan to visit southern France and Spain for learning vacations. I will also combine some business, as there are some great fragrance houses there I am interested in exploring.
GCI: How do you believe the beauty industry is changing, and what news or trends do you think will be important for professionals to pay attention to in 2008?
Elaine Sauer: The medical avenue of injectables is changing the facial business…. It's been interesting—since BOTOX was approved for antiaging officially a few years back—I am noticing products being available via e-commerce and through various avenues today. More people are managing some of their skin care routines at home with personal equipment from the Zeno to Wellbox, but like everything, the human hand does so much more for rejuvenation and draining stagnation from the face. I can't imagine that facials will ever be replaced with these new avenues…. The human touch is irreplaceable…. The personal care market is trying to bridge the direct line to home spa, but you can't imagine how many home bikini waxes we have to fix! The trends for cosmeceuticals/nutraceuticals are going to increase in the spa setting; some vendors that are leaders in this area are Murad, Inc. and N.V.]Perricone M.D. Cosmeceuticals, but so much of the end results are through your nutrition. Much like exercising, if you want to lose weight, you have to change what you're consuming as well, or the increased exercise is not enough. Young people and men are a growing segment of our business, and we have to adjust the way we market our menus to these new categories if we want to attract them and make them feel at home…. Kids are feeling the pressure of life today and want to be relaxed via massage.
GCI: What are some of your concerns regarding these trends?

Elaine Sauer: Even people in their twenties and thirties are having BOTOX! There's such an awareness of people wanting to remain youthful…. We tend to think women use more products—and they do—but they want multifunctional products. Men feel the same way; they look for ease of use in moisturizer, SPF sunscreens and eye cream.
GCI: What are projects on your roster now, and what are your future professional goals?
Elaine Sauer: The vitamin A Firm and Regenerate]Serum we're going to be launching uses Matrixyl 3000, a peptide that reduces the depth and number of wrinkles by assisting collagen growth and repair. The big picture dreams are to have a line on QVC and write books on spa rituals from across every part of the world. If the publishing house Assouline is reading…. And of course, we'll continue to invent new products and business drivers for our organization to take the business to interesting new heights.
To read Sauer's full profile, see "Spa and Salon: Inside Style" in the April 2008 print issue of GCI magazine.