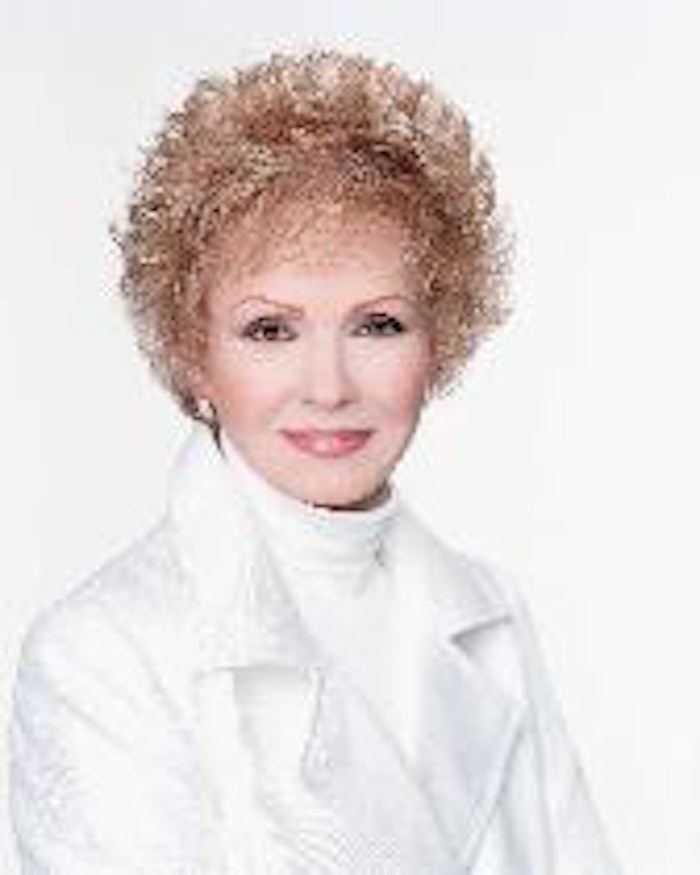 She's a multi-million dollar direct marketing success story who was nominated for a 2008 FiFi Hall of Fame Award from The Fragrance Foundation. She's been active in charitable causes, including the Susan G. Komen Breast Cancer Foundation, the Joy Community Outreach to End Homelessness and other organizations. Not only has she become a Beverly Hills celebrity in her own right, she is also married to a movie star. But this year, Tova Borgnine, CEO and founder of the TOVA Corporation (www.tova25.com), celebrates the 25th anniversary of her biggest hit yet—the TOVA Signature eau de parfum, which has sold in the millions and outlasted other fragrances by decades. Borgnine spoke with GCI magazine about her silver anniversary and how the mail order business she began branched into the electronic retailing arena.
GCI: How has working in a variety of jobs during your career—as a model and an actress, a beauty boutique owner and a makeup artist—contributed to the success of your business and made you a more well-rounder leader?
Tova Borgnine: All facets of life are guides. In the area of acting, it gave me the range of the creative. In modeling, I learned there's "always someone better." I feel privileged to have started in a creative environment.
GCI: What have been some of the advantages and challenges of running a direct marketing beauty campaign, rather than selling products in retail stores?
Tova Borgnine: I started my business in 1977 and was recently married to an Academy Award winner, Ernest Borgnine. When I founded TOVA Corporation, it started in mail order. Mail order, you see, was clipping coupons at that time. The challenges were in being taken seriously. The arena I lived in wasn't in the forefront of mail order and what it would become. What was mail order, because of technology, grew into direct response—direct marketing. I was in the midst of it. In mail order at that stage, it wasn't appropriate to run full page ads in Vogue, for example, so I had to find another medium. I found that newspapers were the best option, so I ran full page ads in all the major newspapers across the country. People weren't hesitant to send us money for skin care because my husband had credibility. Then we moved into catalogs. Scent strips were a vehicle to assist us in our catalog and Sunday newspaper supplements.
GCI: How were you able to transition from the skin care arena into fragrance in 1982?
Tova Borgnine: I truly believed in the process, and that's what made it possible. Looking back, I was in the right time and arena with certain attributes; I was in a celebrity town with a celebrity husband.
GCI: You star in a QVC program called "Beauty by Tova." How helpful has the home shopping television show been in the success of your business? Is QVC a relatively untapped goldmine for beauty brands?
Tova Borgnine: QVC was founded in 1986. I've been with them since 1990. I understood it because of my background. No one in editorial at the time took it seriously, but 18 years later, the entire beauty industry is clamoring to get on. Most definitely, QVC is an untapped vehicle. It's one of the formidable electronic retailers of the world, a descendant of mail order. Those who are successful on it know you can connect with the individual, which can be multiplied 90 million times. Remember, it's live, so you have to know how to speak. You should speak as if you're talking to one person.
GCI: 2008 is the 25th anniversary of your eau de parfum, TOVA Signature, and you've sold more than 10 million bottles without many of your customers having smelled the fragrance first. How have you been able to keep the product fresh and appealing for so long?
Tova Borgnine: Number one is the juice. Perfume is created similarly to wines, except with essential oils instead of grapes from vineyards. TOVA Signature is 100% natural and is matured for three months before being bottled. It's like a fine wood. It ages well. It's a classic. Unlike the Poisons and Giorgios of 1982, which were too heavy, TOVA Signature is light, clean and sensual.
GCI: What cosmetic/personal care product can't you live without?
Tova Borgnine: My Emollient. It has the highest concentration of cactine, our proprietary ingredient. I use it for my face, my cuticles and whatever feels dry. It is my magic potion. I must have it with me at all times! Second, I choose my Lip Redeemer, because it makes my lips smooth and hydrated.
GCI: Who has been your biggest business role model?
Tova Borgnine: My mother. She brought me to America from Norway when I was 7 and a half. I didn't speak English. She said to me, "Now that you're here, you can do anything," and she was right. In so many ways, I naturally have also had the support of my husband, emotionally. He's always held his feet on the ground.
GCI: What is key to balancing your business and personal lives?
Tova Borgnine: You must love, love, love what you do! My passion outside my personal life is my business. As an entrepreneur, that's important. Don't bring the business into your home, if you can help it. When you're on vacation, you're on vacation!
GCI: Speaking of which, what is your favorite destination?
Tova Borgnine: Italy—specifically Lake Como—above Milan, where George Clooney has a home.
GCI: If it were mandatory karaoke night, what would you be singing?
Tova Borgnine: Frank Sinatra's "My Way."
GCI: What do you have in store for the future?
Tova Borgnine: We're introducing a new fragrance, TOVA Signature Summer. It's clean and sensual with a tickle of sunshine.
Editor's note: For more on Tova Borgnine, read GCI magazine's June 2008 issue. For photos of Tova and others at the 2008 Fifi Awards gala, taken for GCI magazine and Perfumer & Flavorist magazine (courtesy of Allured Publishing), click here. For more on electronic retailing, look for a special interview with one of QVC's beauty executives in the August 2008 back page profile of GCI magazine.