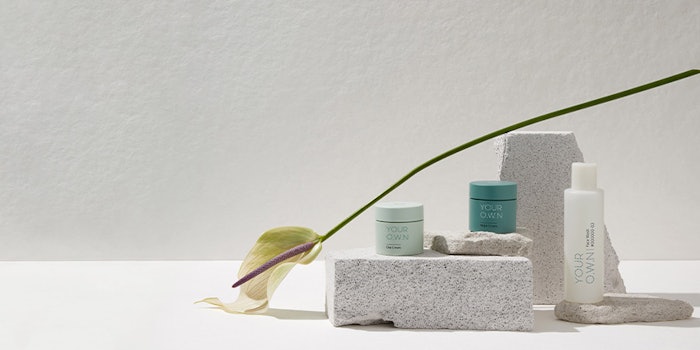 Beiersdorf is launching O.W.N, a personalized skin care brand that features facial cleansing, day care, evening facial cleansing and night care.
Previously: Beiersdorf x SABIC Certified Renewable Polypropylene
O.W.N uses artificial intelligence and is built around a proprietary algorithm that is able to select the single best unique product offering out of 380,000 formula combinations. 
Consumers are given the opportunity to use a scientifically evaluated questionnaire to determine which care formula is best suited to their skin www.ownskincare.eu.
O.W.N, which will be available first in European markets, stands for Only What's Needed. The formulas and packaging are personalized so that the consumers' first names form a unit with the brand name, for example "MARY'S O.W.N." 
The brand uses refillable jars and bottles, as well as outer packaging made from organic materials to reduce plastic waste. All single-use components are recyclable.
"The launch of O.W.N strengthens our focus on personalized skin care innovations–based on individual needs and scientific findings," explains Stefan De Loecker, CEO of Beiersdorf AG. "The whole project is an internal start-up: a few dedicated entrepreneurial people and a ton of passion and hard work managed to drum up support from all functions to make this happen. The product range of O.W.N is based on the particular combination of the consumer's skin condition and the consumer's specific wish to improve their skin. Our point of difference is that the products evolve automatically with every new order, including criteria such as lifestyle, people's personal circumstances, or seasonal changes. With this holistic approach, we not only maintain a direct digital connection with consumers, but we also enhance our knowledge regarding consumers and their skin. This will help us to offer even better personalized solutions in the future."
Fiscal 2021 Forecast
Beiersdorf has announced that over the next five years an additional €300 million will be invested in sustainability, digitalization and growth markets.
In fiscal year 2021 the consumer business segment is expected to achieve an operating EBIT margin (before extraordinary effects) at prior year's level (2020: 12.3%) and positive sales growth. 
Post-COVID-19, the Beiersdorf assumes that the EBIT margin in the consumer business segment will grow ahead of sales, including significant investments in the strategic C.A.R.E.+ priorities.
The operating EBIT margin (before extraordinary effects) in the tesa business segment in fiscal year 2021 is expected to be down on the previous year despite positive sales growth, also due to significant investments in the strategic focus areas (digitalization, growth, sustainability)