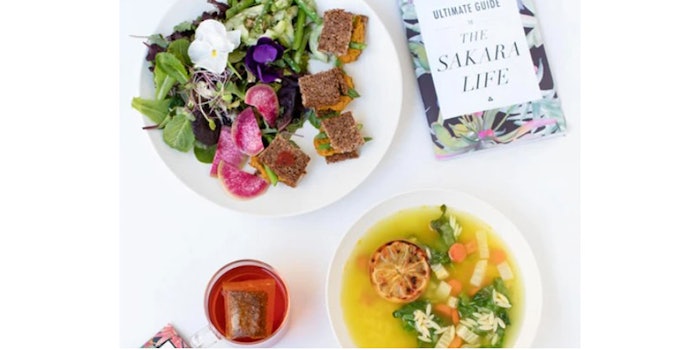 Sakara Life has announced the completion of a $15 million Series B financing with participation from new investors One Better Ventures and Silas Capital and existing investor Annox Capital.
Previously: Infinite Looks Receives $4.2 Million Series A Funding
Strategic investor John Replogle, former CEO of Seventh Generation and Burt's Bees, has also been named as chairman of Sakara Life's board of directors to shepherd an expansion into new consumer packaged goods verticals.
Notably, Sakara has already dipped into beauty, for instance with its Beauty Water Detox Water Drops and Beauty Super Bars.

Report: Beauty Inside: Ingestibles in a Pandemic
Replogle will help grow and scale Sakara into a global lifestyle brand spanning multiple categories outside of food.
Sakara plans to use the funds to expand into new categories, introduce new technology, invest further in its sustainable packaging and support the growth of the team's footprint.
The company is expected to approach $150 million in profitable revenue this year.
Key areas of investment include:
Product innovation
Enhanced user-interface and mobile app
Talent acquisition
Sustainability promise
Give-back initiative
On and offline programming
Replogle said, "I joined as an investor and chair of the board of Sakara because I believe the company is uniquely positioned to create a consumer-compelling platform at the forefront of the wellness movemen. I'm excited to build on the magic the team has created and help cultivate a robust health and beauty platform. Sakara is beautifully positioned to tailor to every facet of each client's lifestyle, to advance human health, and to continue on their mission to transform lives on a global scale."
Whitney Tingle, co-founder and co-CEO of Sakara Life, said: "John Replogle, who will now act as chairman of the board, will help take what we know about health and clean living and translate that into products that not only transform the way we eat, but the way we live. If we've learned anything about consumer behavior while building this company, it's that people finally understand that the choices you make every single day have the greatest impact on your health, and we're proud to be a part of those daily decisions."