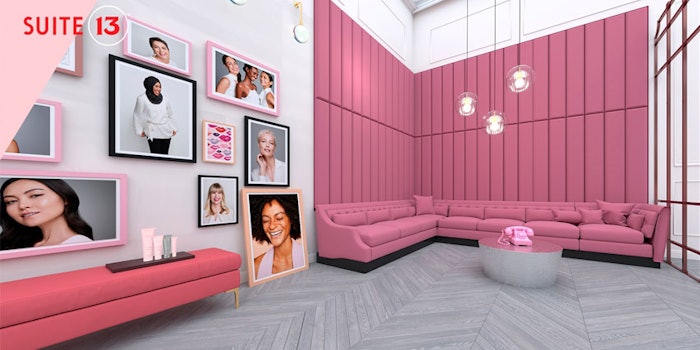 Mary Kay and its Mary Kay Global Design Studio have announced the launch of Suite 13, a beauty experience that uses virtual reality to digitize the company's first virtual pop-up showroom. 
Suite 13 offers Mary Kay independent beauty consultants and their customers a 360-degree, 3D experience in which they can virtually browse the beauty brand's portfolio of skin care and learn about the company and its founders.
Users are invited to tour through virtual rooms, including the Pink Plaza and Innovation Center. The Pink Plaza explores the company's values, while the Innovation Center presents Mary Kay's skin care products and showcases key product benefits and ingredients.  
After viewing the products, users can add their favorites to a wishlist that can be shared with an independent beauty consultant.
Mary Kay partnered with Obsess—an experiential e-commerce platform that enables brands to create interactive, online virtual experiences using virtual reality—for the design of the platform.
The virtual showroom launched in Mexico earlier in 2021, followed by Brazil, Argentina, Spain, Colombia and Peru. Mary Kay plans to launch Suite 13 in most of its markets by the end of 2021.
Sheryl Adkins-Green, chief marketing officer for Mary Kay Inc., said: "The launch of Suite 13 is the result of months of creativity, passion and commitment to provide Mary Kay's Independent Beauty Consultants the best and most innovative tools in the market to help them manage their business. Today, technology is at the center of everything, and people— especially the younger generation—want to discover, learn and find out about new products online. Suite 13 will provide Mary Kay Independent Beauty Consultants the flexibility of a digital business by being able to introduce our Mary Kay brand everywhere at any time and to elevate the way they build relationships with their customers by sharing an immersive beauty experience. To win in this new digital-driven environment, we will continue to find new ways for people to connect virtually for personalized low-touch experiences based in high-tech innovation."
Neha Singh, founder and CEO of Obsess, said: "Suite 13 is about bringing the Mary Kay beauty experience together in a much more accessible way to independent beauty consultants and their customers where they already are. With Suite 13, the Mary Kay team took care of every detail of the platform, giving you the feeling of being in a Mary Kay virtual showroom without having to actually be physically present. Our platform has allowed brands to create visually appealing, immersive virtual experiences that are changing the way they engage with their customers and we are excited for Mary Kay customers to continue to discover, learn and interact with the brand in a new digital environment."