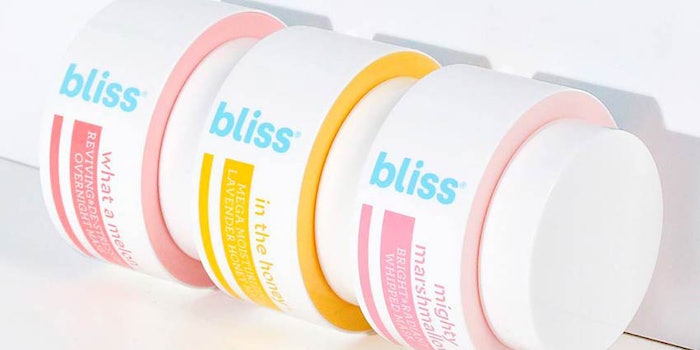 @blissworld/ via Facebook.com
Bliss has announced a partnership with PETA and acceptance into the organization's Beauty Without Bunnies program.
Survey: 36% of Women Only Buy Cruelty-free Beauty
Bliss, which underwent a complete brand re-launch in early 2018, now offers 100% cruelty-free, paraben-free skin and body care formulas, officially certified cruelty-free by PETA standards. Additionally, a collection of vegan skin care and body products, as well as a new 100% cruelty-free spa menu, are slated to debut in spring 2019.
Related: Bliss Debuts Total Brand Relaunch
The Beauty Without Bunnies program is a resource for shoppers to identify brands which meet PETA standards, having committed to not testing on animals or selling in markets where animal testing is required by law.
"As a brand we are passionate about how our products are made and where the ingredients come from. Vowing to be cruelty free was an indisputable choice when relaunching, as it is of the utmost importance to not only our consumers, but our company and brand values," said Bliss CEO Meri Baregamian. "Shoppers can find comfort in the fact that Bliss formulas are 100% cruelty-free and free of other harmful ingredients without sacrificing the same high-quality and innovation that they have come to expect, know, and love from the brand."
"PETA welcomes Bliss and its commitment to cruelty-free products to our Beauty Without Bunnies program," said PETA senior vice President Kathy Guillermo. "Bliss recognizes that no animals need to suffer and die to create amazing products, and we applaud their compassion."