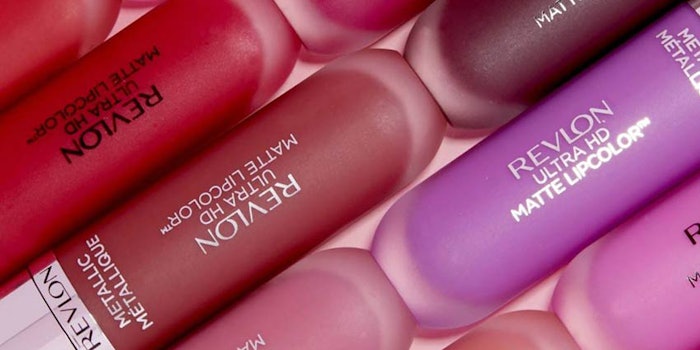 @revlon/ via Facebook.com
Revlon, Inc. has announced its Q2 2018 financial results.
The company reported net sales of $606.8 million, a decrease of 6% over the previous year. Losses were driven primarily by the Oxford, N.C. SAP service level disruptions, which impacted the Revlon and portfolio segments largely in the international market, as well as the loss of licenses in the fragrance segments. Declines were partially offset by net sales growth from new products in the portfolio segment and global growth of Elizabeth Arden.
The Revlon segment reported a 10.8% decrease in net sales, at $258.3 million. This decrease was driven by lower net sales of color cosmetics and Revlon ColorSilk hair color. The company attributed this to the Oxford, N.C., service level disruptions as well as consumption declines in North America.
Related: Will the Fenty Effect Save Revlon?
Elizabeth Arden, with reported sales of $106.1 million, increased 4.9% over the previous year. Sales were driven by Elizabeth Arden skin care products, including Ceramide and Prevage, largely in international markets.
Portfolio brands reported sales of $147.6 million, a 2.9% increase over 2017. The increase was driven by higher net sales of Almay color cosmetics following the brand's relaunch, as well as higher net sales of CND nail products due to shellac innovation.
Due largely to loss of licenses, fragrance sales decreased 15.1% to $94.8 million.
Geographically, the company saw sales decrease in North America (7.5%) as well as internationally (14.9%).
Noted president and CEO Debra Perelman: "Despite SAP service level disruptions at the Oxford, NC  plant and other broader market impacts, we are starting to see the positive effects of our strategic investments on our growth priorities. Our strategy continues to focus on strengthening our brands and enhancing the avenues through which we communicate and connect with our consumers. We are focused on ensuring broad availability of our products where the consumer shops in both brick and mortar and online. We are seeing strong growth in e-commerce and innovation, including a very positive response to the launch of Flesh, our new in-house incubated brand. We continue to build strategic capabilities and partnerships to position the company to win over the long term."