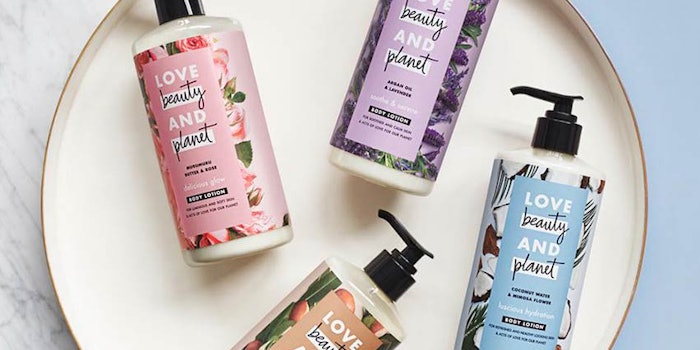 @LoveBeautyAndPlanet/ via Facebook.com
Unilever saw underlying sales growth increase 3.8% during Q3 2018, the company announced.
Growth accelerated across all three divisions—beauty and personal care, home care, and food and refreshment—driven by the company's accelerated innovation program. Underlying sales in emerging markets grew 5.6%, led by competitive growth in Asia. Growth in Latin America was negatively impacted by significant volume decline in Argentina; Brazil, however, recovered from the truckers' strike that affected second quarter sales.
Beauty and personal care reported underlying sales growth of 4.0%. Skin care continued to show strong growth momentum, assisted by innovations such as Citra's new naturals range. Pond's launched new premium formats, including a cleansing balm for makeup removal and moisturizing, and skin cleansing saw the continued success of premium formats like the launch of foaming shower gels.
Related: Facing Backlash, Unilever Nixes Netherlands Move
Prestige saw double-digit growth in brands including Hourglass, Kate Somerville, Living Proof and REN. Love, Beauty and Planet—the largest of the conglomerate's new brand launches—extended into deodorants and skin care during the quarter, and new Korean beauty brand K-Bright launched in South East Asia.
Within deodorants, price returned to growth and volumes were assisted by purpose-led campaigns for Dove Men+ Care and Rexona, while hair care saw the roll-out of Dove's new natural range and the launch of 'super conditioners' to reduce hair damage. Oral care sales were down slightly; the company attributed this to challenges in the French, Indonesian and Brazilian markets.
"Growth accelerated in the third quarter across all divisions," commented CEO Paul Polman. "We were able to increase prices while still maintaining good volume growth which reflects the strength of our brands and quality of our innovation program. Our focus on building our business for the long-term continues to deliver high quality growth."