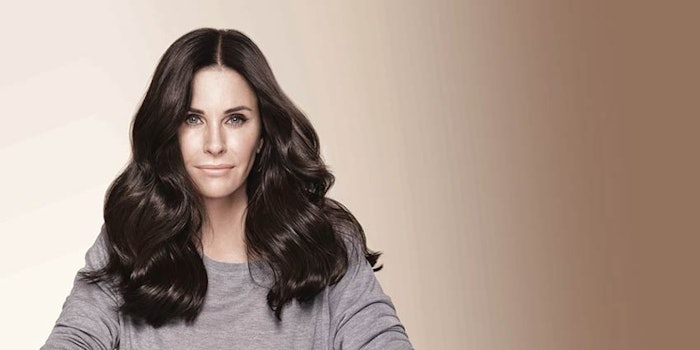 L'Oréal Paris Superior Preference hair color has launched a new campaign: Superior Preference #OWNINGIT, described by the brand as "a rallying cry for women everywhere to truly own, celebrate and be proud of their personal achievements and decisions made in life—their hair color included."
Actress Courteney Cox joins L'Oréal Paris  spokeswomen and actresses Julianne Moore and Amber Heard in the campaign, which will debut as a commercial during the Golden Globes broadcast on Jan. 6, 2019. It will go live on social, digital and in print media over the following months.
When Superior Preference launched in 1973, it introduced the brand's "Because I'm Worth It" tagline.
"Since launching over 40 years ago, Superior Preference has stood for more than just hair color. Its message of empowerment and championing women is more relevant today than ever before," said Anne Marie Nelson-Bogle, senior vice president, marketing. "With this new campaign, we want to inspire women to powerfully own it across all facets of their life – from their personal and professional passions to their approach to beauty, including their hair color."
Update: In conjunction with debut of new Elvive Rapid Reviver Deep Conditioners, the brand will also unveil its #StopWaiting campaign during the broadcast. "Rooted in celebrating women who stopped waiting—whether that was to take action, find their voice or pursue a passion," spokeswomen Camila Cabello, Eva Longoria and Amber Heard will join fans on social media in sharing their own #StopWaiting stories during the awards show, animated with the brand's first-ever GIPHY sticker.