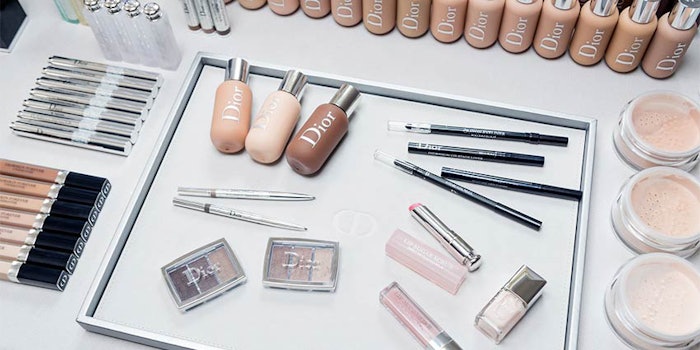 LVMH's 2018 fiscal year (ending Dec. 31, 2018) saw the luxury conglomerate taking in €46,826 million.
By the Numbers
The figure was a 10% published increase (11% organic) over the previous year. Also up 10%: The perfumes and cosmetics segment, which reported sales of €6,092 million. The segment's organic sales increased 14%.
Makeup led the pack, making up 47% of revenue by product category.
Perfumes claimed 35% of the segment's revenue; skin care, 18%.
Geographically, 35% of sales came from Asia excluding Japan; 22% from Europe excluding France; and 16% from the United States. France (11%), other markets (11%) and Japan (5%) followed.
On Brand(s)
Parfums Christian Dior gained market share; J'adore, Sauvage and Joy by Dior were highlighted in the report, as was the Maison Christian Dior boutique concept.
Perfume drove Guerlain's "remarkable performance," specifically the expansion of Mon Guerlain and the international rollout of Guerlain Parfumeur boutiques. The brand's Rouge G lipsticks and Orchidée Impériale and Abeille Royale skin care lines were also cited as successes.
Parfums Givenchy saw accelerated growth, with perfumes doing well in Europe and makeup making major gains in Asia. Within makeup, lip cosmetics and foundation were "particularly strong."
Other highlighted brands: Kenzo Parfums, Make Up for Ever, Fresh, Acqua di Parma, Fenty Beauty by Rihanna (which had a "very strong digital presence"), Marc Jacobs Beauty, Parfums Loewe and Maison Francis Kurkdjian.
Related: Jean-André Rougeot Appointed CEO of Sephora Americas
On the Horizon
Parfums Christian Dior will accelerate the rollout of its Maison Christian Dior boutique concepts. The expertise of professional makeup artists and the brand's "couture spirit" will serve as the focus, backed by a digital activation strategy.
Guerlain will continue rolling out Guerlain Parfumeur boutiques, expand its flagship makeup and skin care brands, and launch a "high-performance, highly natural foundation" as well as a new version of its L'Interdit fragrance.
Benefit will continue its focus on brow products.
Kenzo will launch a light eau de parfum version of Flower by Kenzo, as well as a new variant of Kenzo World.
Parfums Loewe will debut a new brand identity, backed by a marketing campaign aimed at strengthening the brand's ties to the world of couture.
Fenty Beauty by Rihanna will continue international expansion, particularly in Asia.