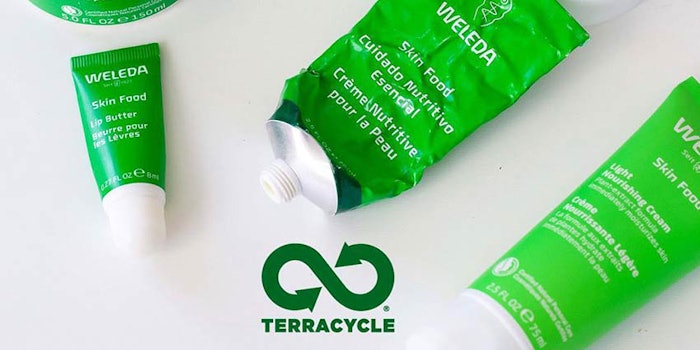 Weleda has partnered with TerraCycle, making it easier for customers to recycle packaging waste from its entire Skin Food line of products.
The Weleda Recycling Program allows consumers to send in their empty Skin Food packaging, to be recycled for free. Participants sign up on the TerraCycle program page and mail in their packaging waste using a prepaid shipping label.
Related: Gillette and TerraCycle Team Up for Razor Recycling
Collected packaging is cleaned and melted into hard plastic that can be remolded into new recycled products. Collectors can earn $1 per pound of waste sent to TerraCycle, to be donated to a non-profit, school or charitable organization of their choosing.
"Preserving the balance between what we take from nature with what we give back is our core value," said Rob Keen, CEO of Weleda North America. "This respect for nature is in our DNA and it guides everything we do - from our innovative biodynamic farming practices that actually pull carbon out of the atmosphere, to our manufacturing facilities in France, Germany and Switzerland that use energy from 100% renewable sources. We also employ thoughtful ingredient sourcing and ethical partnerships that protect the life energy and potency of our products. Now we are teaming up with TerraCycle to ensure that our recently launched Skin Food packaging has every opportunity to be recycled."