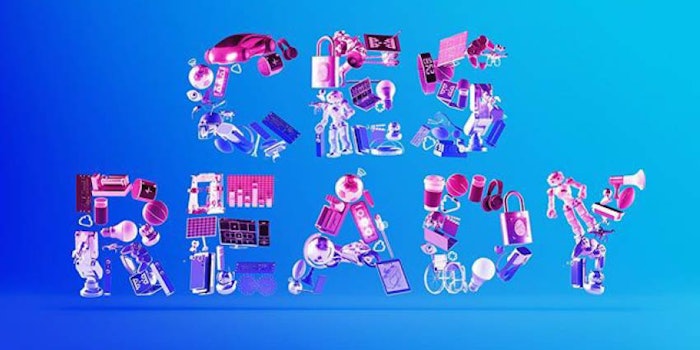 Photo courtesy CES Instagam (@ces)
The 2020 Consumer Electronics Show (CES) invited companies and innovators worldwide to showcase their products, developed through inventive technologies and consumer insights, which will alter consumer experiences. As always, beauty was well represented. Update: New details added from Amorepacific, Samsung and Bellus3D.

Further reading: CES 2019 beauty highlights.
Procter & Gamble
The P&G LifeLab exhibit and product portfolio, which debuted in 2019 and received Endgadget's 2019 "Best of CES" People's Choice Award, USA Today's "CES Editors' Choice" Award, among other accolades, has been reimagined for 2020. This year's portfolio features:
Oral-B iO: an electric toothbrush with a frictionless magnetic drive that distributes energy evenly to the tips of the bristles to create micro-vibrations.
Airia: a connected home fragrance system that works with scent cartridges and uses a smart delivery system to cause the freshener to travel throughout the home, up to 2,000 square feet.
Opte Precision Skincare System: a personalized handheld inkjet printer that scans, detects, and corrects hyper-pigmentation in skin.
Heated Razor by GilletteLabs: a razor that delivers a sustained heat sensation through a warming bar and provides the pleasure of a hot towel with each stroke throughout the duration of the shave.
"We strive to make life easier and more enjoyable with the superior products and services our brands offer," said chairman and CEO David Taylor. "CES gives us the chance to show how we are constructively disrupting our business to deliver irresistibly superior experiences that reinvent what people expect of everyday products."
"We want to continue leading as we challenge ourselves to raise the bar," said Kathy Fish, chief research, development and innovation officer. "We are embracing new approaches to innovation so we're more agile, more connected and more effective. We are engaging consumers as innovation partners and testing more ideas than ever before."
L'Oréal
L'Oréal's Perso will be on display at CES 2020. The three-in-one device, which was developed by the L'Oréal Technology Incubator, offers a four-step process to deliver on-the-spot skin care. The device will also be able to create custom cosmetic formulas for lipstick and foundation, which will be launched later.
Perso uses a patented motorized cartridge system to create personalized skin care formulas in four steps:
Personal skin analysis: After opening the Perso app, the user takes a selfie and utilizing the ModiFace technology, the app uses AI to analyze their skin condition.
Environmental assessment: Perso then uses Breesometer geo-location data to assess local environmental conditions that may influence skin, including weather, temperature, pollen, UV index and humidity.
Product preference: The user enters their skin care concerns into the app, as well as their preferred texture and hydration-level to further customize their formula of moisturizer, serum and under-eye cream.
Custom formulation and dispensing: The data then informs the creation of a personalized blend, which is dispensed in a perfectly portioned, single dose at the top of the device.
"Building on our deep scientific heritage and leadership in innovation, L'Oréal is once again leveraging advanced technology to create smart beauty products and services that answer the needs of our consumers and offer them near-limitless personalization and precision," said Nicolas Hieronimus, L'Oréal's deputy CEO. "We are committed to making L'Oréal the leader in Beauty Tech–and Perso is the next step in that exciting journey."
Perfect Corp.
Beauty tech solutions provider and CES Innovation Awards honoree, Perfect Corp., will be revealing a sneak peak at its new AI and AR solutions.
Previously: [update] Skin Care Innovations to Check Out at CES 2019
Perfect Corp., the company behind the virtual beauty app, YouCam Makeup, and photo editing toolkit, YouCam Perfect, will be introducing "Beauty AI" with a lineup of AI and AR technologies that provide consumers with personalized beauty recommendations and help brands master a consumer-centric strategy.
Related: Study Gathers Consumer Insight on Beauty Tech
Taking place from January 7 to January 10, the 2020 CES will host Perfect Corp. in introducing beauty technologies to consumers, brands and retailers. Onsite at the Las Vegas Convention Center, the company's smart beauty tech to be showcased includes:
AI Makeup: Due to advancements in facial recognition and machine learning, virtual try-on has improved and now incorporated personalized product/look recommendations based on user preferences. Guests can experience the new smart AI Foundation Shade Finder and virtual AI Beauty Advisor tools, which help deliver individually tailored beauty experiences that drive conversion.
AI Skincare: Due to improved camera lens quality, skin analysis has also improved and condition tracking can now include hydration, oiliness, and redness, in addition to spots, wrinkles, textures, and dark circles. Guests can experience a custom Acne Spot Scan solution which uses advanced AI beauty tech to generate instant acne readings and product recommendations for the user.
AI Hair: Live virtual hair color effects have expanded beyond basic single process shade to incorporate a mix of gradient, shine and color effects ranging from ombre, to duo-chrome and metallic shading. The real-time hair color try-on instantly recognizes the unique movement of hair to display wildly accurate digital hair color effects.
AI Face Attributes: AI deep learning is used to detect facial attributes to help brands understand consumers' individual characteristics to tailor a more custom beauty experience with personalized recommendation that matches consumer needs. Guests can experience AI Face Attributes Web and AI Face Scanner onsite and see the 3D Face Mesh tracker used in the detection of the smart AI readings.
AI Beauty Advisor: Using AI deep learning and AR technology this tech provides personalized beauty recommendations based on individual preferences (including facial attributes skin tone and hair color), directing consumers to a product list tailored specifically to them. This customized experience helps beauty shoppers navigate overwhelming product selections to find the products and styles most suitable to their preferences, playing to a consumer-centric strategy that helps drive a 2.5 times conversion rate increase.
The interactive showcase will highlight the unique ways brands are leveraging YouCam Makeup's AI beauty tech solutions across omni-channel touchpoints to best meet the demand for a consumer-centric approach.
Additionally, Perfect Corp. founder and CEO Alice Chang will be presenting a "High Tech Retailing talk on Beauty AI and AR Personalized Solutions," as well as a panel on January 8 from 11:00-11:40 a.m. The presentation will spotlight the ways brands have implemented custom AI beauty tech solutions to improve the consumer experience.
"We are excited to reveal Perfect Corp.'s newest AI and AR innovations at the highly anticipated CES 2020 convention in January," said Chang. "At Perfect Corp., we strive to continuously innovate and lead the pack in AI beauty solutions that drive results. We look forward to introducing 'Beauty Tech 360' at CES 2020 to help show brands how the successful implementation of AI and AR can create truly personalized beauty shopping experiences that fit the growing demand for a consumer-centric strategy."
Neutrogena
Neutrogena will introduce its AI powered skin health coach app, Neutrogena Skin360. The app combines skin imaging, behavior coaching and AI to empower consumers with actionable, personalized steps to help them achieve their skin health goals.
The first generation, which was launched in 2018, required a skin scanning tool, but after receiving insight, the Neutrogena Skin Tech team made the app tool-free with more science-backed information, access to experts and personalized recommendations. The app can also now track any skin care product used to understand how an end-to-end skin care routine impacts skin health over time.
The app features the Neutrogena AI Assistant (NAIA), which acts as a virtual skin health coach and builds a relationship with users through AI and behavior change techniques. The tech then helps users identify an eight-week skin care goal, which is then monitored and supported by NAIA's behavioral coaching.
"The next generation of skincare must be tailored to individual needs, concerns and goals as consumers crave a holistic view of factors impacting their skin and they want expert guidance on how to achieve their best skin ever," said Kerry Sullivan, vice president and general manager of Neutrogena at Johnson & Johnson Consumer Health. "The Neutrogena Skin360 app helps bridge the gap in knowledgeable, personalized, science-based skincare and supports users in sticking to a routine that helps deliver their personal skin health goals."
Update: Samsung
Samsung Electronics will showcase five innovative projects from its C-Lab Inside program, three of which are aimed toward beauty and wellness.
Becon: a scalp home-care service to prevent hair loss through recommended solutions based on scalp analysis. Becon consists of a hand-held, diagnostic device and a compatible app. The device analyzes, in real time, 10 conditions of the scalp, like hair follicle density, dead skin, sensitivity, temperature and humidity, based on a machine learning algorithm. The app then recommends the most suitable solution to remedy the user's scalp trouble, as well as shows the trend of the scalp's improvement through the app.
SunnySide: a window-shaped lighting device that produces artificial sunlight that changes by the hour by copying the full spectrum of the actual sunlight. It enables the user to enjoy the sunlight, while also helping them synthesize Vitamin D from indoors/in places where there isn't a sufficient amount of sunlight wi9thout worrying about skin aging or sunburn. SunnySide can be easily installed on the wall like a picture frame.
Ultra V: a new type of sensor and service that records ultraviolet rays daily. The sensor has a wide incident angle that makes it easier to integrate into wearable devices. The device allows users to monitor and manage their skin condition and Vitamin D production which are influenced by accumulated exposure to solar UV rays.
"We will actively support C-Lab to create products that reflect the latest market trends and customer demands and will showcase outstanding projects and startups of C-Lab in various global exhibitions," said Inkuk Hahn, vice president and head of the Creativity & Innovation Center at Samsung Electronics.
Update: Amorepacific
South Korean cosmetics giant Amorepacific will present the 3D Printing Mask Pack. The 3D Printing Mask Pack also won the CES Innovation Award in the 3D printing category. The product will be launched in April at the IOPE flagship store.
The innovation is a hydrogel mask pack manufactured using 3D-printing technology to fit the user's face. The tech was jointly developed by Amorepacific and Lincsolution, a developer specializing in 3D printers.
Amorepacific will also showcase the tentatively named LED Flexible Patch, which is an LED beauty device that will be released by its brand Makeon next year. LED Flexible Patch comprises a light-emitting diode patch that can be attached to the skin. The LED light is designed to penetrate the skin and improve tone and tightness, as well as helping to prevent the skin from sagging.
Update: Bellus3D, Inc.
Silicon Valley startup Bellus 3D is launching the Bellus3D ARC, a multi-camera 3D face scanning solution that captures a commercial grade, full 3D face scan in less than three seconds. The system produces a near instant capture with no moving parts and without requiring subject movement.
Bellus 3D ARC consists of a Windows-based host device and a configurable array of up to seven 3D vision cameras arranged in a semicircular arc surrounding a subject's head. The cameras capture and process data in parallel from the different angles and send the data wirelessly to the host device. The host device then merges data from all cameras to generate a full head model in a few seconds using Bellus3D patented proprietary face scanning software.
The tech was developed in response to the market demand by industries that require facial measurements for a personalized/custom product fit. The initial target markets include dental, eyewear, gaming, cosmetics, medical and virtual and augmented reality.
"The ARC solution is the next step in the goal of Bellus3D which is to allow product companies to bring a high level of personalization to their products by ensuring they fit the exact contours of the human face," said Eric Chen, CEO of Bellus3D, Inc. "There is no other solution available that can deliver such a high quality face scan in seconds with the click of a single button."