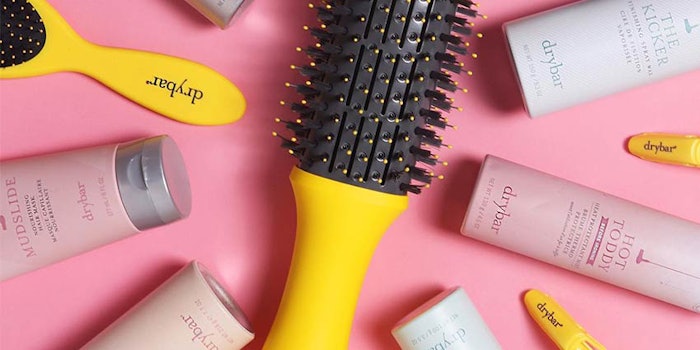 Helen of Troy Limited has announced it will be acquiring prestige hair care brand Drybar Products LLC in a deal that will close January 31, 2020 at an expected purchase of about $255 million. The acquisition includes Drybar trademarks and other intellectual property, however Drybar blowout salons are permitted to continue using the trademark, per the agreement.
The company believes that Drybar Products fits its goal of investing in businesses that can accelerate profitable growth in categories where it can add value and leverage its scalable operating platform.
The expected purchase consideration implies a pre-synergy multiple of less than 13x estimated calendar year 2019 adjusted earnings before interest, taxes, depreciation and amortization (EBITDA), comparing favorable to Helen of Troy's current enterprise value adjusted EBITDA multiple of approximately 16.4x. Calendar year 2019 net sales revenue is expected to be $64 to $66 million.
The acquisition is expected to be immediately accretive to Helen of Troy's consolidated sales growth rate, gross profit margin, adjusted EBITDA margin, adjusted diluted earnings per share and cash flow from operations.
Helen of Troy anticipates the acquisition to be even more accretive to the beauty segment on comparable operating measures. Due to its strong cash flow generation in the second half of the fiscal year, the company expects to end fiscal 2020 with a post-acquisition pro forma debt/adjusted EBITDA ratio just slightly above the pore-acquisition ratio reported at the end of Q2 on August 31.
"We are delighted to announce that we have entered into an agreement to acquire Drybar Products, which will add a highly-respected and fast-growing brand to our beauty business, and an 8th Leadership Brand to Helen of Troy's portfolio," said Helen of Troy CEO Julien Mininberg. "Drybar products are winning in the prestige category with premium appliances, liquids, and accessories that resonate with a wealthier, on-trend consumer demographic for use at home and by stylists. The business has more than doubled in size since 2016 and continues to grow at a healthy double-digit rate across a wide array of retailers including Ulta, Sephora, Nordstrom's, Macy's, and of course, Drybar salons."
Mininberg continued, "Strategically, we believe Drybar Products is an excellent fit with Helen of Troy. Drybar will complement our Revlon and Hot Tools products, allowing our brands to resonate with consumers and professionals across the good, better, and best segments. We believe there is excellent upside potential for Drybar Products and we expect to capitalize on our expertise in beauty, appliances, new product development, sales, marketing, category development, and international. Additionally, once we complete the necessary integration activities, we expect to add further value to the business and achieve meaningful synergies by leveraging Helen of Troy's highly capable shared services through our global sourcing, distribution and back office capabilities."
"Over the last ten years, Drybar has led a disruption of the traditional salon industry through its market-leading, blowout-only salons and highly successful prestige products," John Heffner, CEO of Drybar Holdings LLC, said. "At Drybar, we focus on one thing only—blowouts—and we make sure we are the best at it whether it is with our salon services or the fantastic line up of products that we sell to help our customers re-create or maintain their Drybar look at home. As we look towards the future, I could not be more pleased to join Helen of Troy Beauty and Drybar Holdings could not be more pleased to join forces with Helen of Troy."