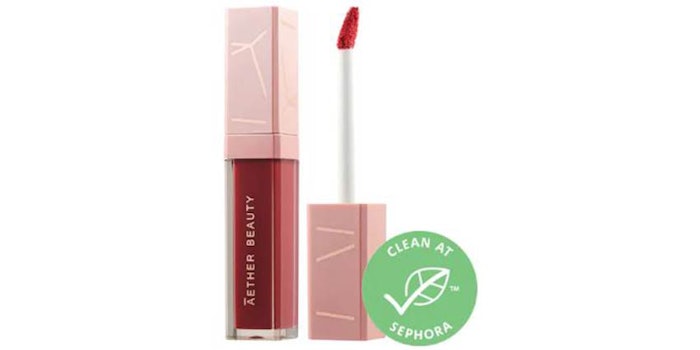 The launch of Āether Beauty's 12-color Radiant Ruby Lip Crème line at Sephora marks the prestige beauty industry's first fully recycled lip component.
Previously: Drunk Elephant Launches Sephora Exclusive Overnight Mask
Āether Beauty creates clean formulas comprised of natural ingredients and non-toxic, synthetic ingredients combined with plants, and employs zero-waste packaging.
Related: Ethical Beauty That Stands Out
Radiant Ruby Lip Crème is a super-hydrating blend that falls between a full-color liquid lip and a wet lip gloss. Its core ingredients are organic rose hip oil, which adds hydration and moisture; elderberry fruit and plumeria flower oil extracts, which also hydrate the lips; and ruby powder, which nurtures and softens the lips while protecting them against environmental stressors.
The line is vegan, cruelty-free, gluten-free and comes in recyclable packaging. The products are sustainably packaged using FSC paper and soy inks, and the packaging is made from 100% recycled plastic.
Radiant Ruby Lip Crème colors:
Balance - peachy nude
Protect - mauve nude
Motivate - tea rose
Dream - rose cedar
Manifest - petal pink
Passion - magenta
Ruby - blue red
Self Love - pink tulip
Power - red brick
Inspire - strawberry red
Queen - royal purple
Confidence - mahogany