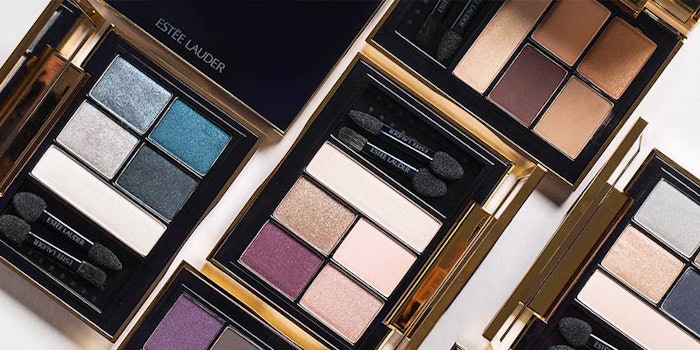 As Coty's latest results showed, makeup is going strong.
Today, Estée Lauder announced that it is forecasting 2017 net sales to rise 6% to 7% and will incur restructuring costs of as much as $100 million. The company, which recently announced leadership changes, has reported that net sales for the three months ending June 30, 2016, totaled $2.65 billion, a 5% increase over the same period 2015.
Net earnings for the fourth quarter were $93.5 million, compared with $153.0 million last year. The latest quarter's results benefited from double-digit growth in the travel retail and online channels.
Skin care net sales decreased year-over-year, despite double-digit gains from La Mer and strong growth from Origins' facial mask products. The company reported lower skin care sales from Estée Lauder and Clinique, particularly in Asia-Pacific.
"We capitalized on shifting consumer preferences by leveraging our strength in makeup and positioning our company to win in luxury fragrances."
Makeup sales boomed as a result of double-digit increases from M•A•C, Smashbox and Tom Ford, and gains from Bobbi Brown. Results were boosted by freestanding retail stores, travel retail and specialty-multi brand retailers. Makeup sales growth also came from the Estée Lauder and Clinique brands. The strongest makeup areas included lipsticks and foundations, the United Kingdom and prestige products in Asia.
Fragrance results benefited from brands such as Jo Malone London and Tom Ford. Decreases were experienced from scent sales in the Estée Lauder, Clinique and designer brands.
Hair care results benefited by sales increases from Aveda, the salon channel, ecommerce, travel retail and Bumble and bumble.
"Our fiscal 2016 performance gives us much to celebrate," said Fabrizio Freda, president and CEO. "We again delivered strong constant currency net sales growth and double-digit adjusted constant currency EPS growth, reflecting the compelling products and services we bring to consumers around the world. We capitalized on shifting consumer preferences by leveraging our strength in makeup and positioning our Company to win in luxury fragrances. We nimbly allocated resources and made strategic investments in areas that gave us terrific results, including emerging markets, our makeup category, and the online and specialty-multi retail channels. Importantly, we achieved these results against a backdrop of social and political instability, currency volatility and economic challenges."
Freda continued, "In fiscal 2017, we will aggressively pursue new opportunities to enhance our leadership position. We will continue to diversify our distribution toward the fastest growing channels, while further developing our mid-sized brands and the newest additions to our portfolio. With our Leading Beauty Forward initiative, we are laying the foundation for future growth by lowering our cost base, increasing our agility and investing behind our strengths and improving our go-to-market capabilities."
He added, "We will also seek geographic and channel opportunities to reach even more consumers, while keeping a sharp focus on like-door growth. We expect our new product launches, digital programs, social media engagement and focused M&A activities to drive constant currency net sales growth of 6% to 8% and double-digit EPS growth over the next three years, excluding restructuring and other charges, consistent with our long-term objectives. For fiscal 2017, we are reflecting the significant external headwinds and volatility and forecasting constant currency sales growth of 6% to 7%. We will thoughtfully balance cost savings, sales leverage and reinvestment to position us to deliver constant currency double-digit EPS growth also this fiscal year."