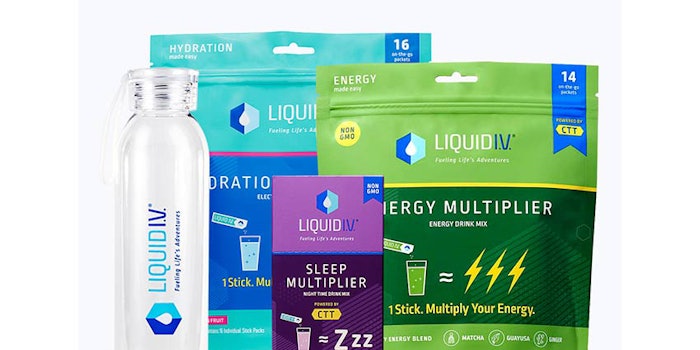 Unilever is acquiring U.S.-based Liquid I.V., a brand of electrolyte drink mixes that leverage Cellular Transport Technology, which reportedly boosts the quick absorption of water and other key nutrients into the bloodstream. Terms of the deal have not been disclosed.
One serving of the brand's technology is purported to provide as much as 3x the hydration of water alone.
Liquid I.V.'s current range focuses on SKUs for Hydration, Energy and Sleep that retail at Costco, Target, Whole Foods Market, Amazon, CVS, Walgreens, Albertsons and other channels.
"Liquid I.V. is an impressive and innovative brand in the fast-growing health, wellness and personal nutrition space," said Fabian Garcia, president of Unilever North America. "Liquid I.V. shares Unilever's purpose to improve people's health and well-being, as well as our ambition to create sustainable products that have a positive social impact. We are delighted to welcome Liquid I.V. to Unilever's portfolio of purpose-driven brands."
Brandin Cohen, Liquid I.V. founder and CEO, added, "We are excited to work together with Unilever to scale the brand and amplify Liquid I.V.'s mission to help people everywhere live better lives–to optimize the body, hydrate those in need, and better the planet."