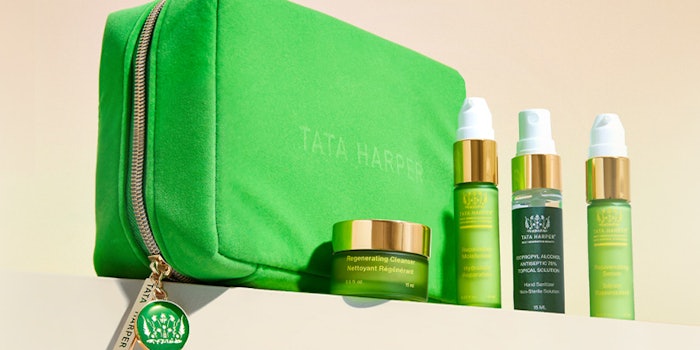 Tata Harper is celebrating its 10 year brand anniversary in October 2020 and looks forward to continuing a sustainable future.
Related: P&G Announces Reusable Shampoo Bottles
For the past 10 years, Tata Beauty has created all its products free of GMOs, toxins, fillers, artificial fragrances, and synthetic chemicals. Glass bottles are infinitely recyclable, ingredients are fully organic and transparent and the production process is 100% sustainable.
The production still occurs on the original 1,200-acre certified organic farm although it now sources ingredients from 77 countries. 
In April 2020, the brand launched its first refillable product, Water Lock Moisturizer, engineered with a sustainable refill system to reduce overall waste.
The brand has also partnered with organizations such as Trees for the Future and Lonely Whale to give back to environmental organizations true to the brand ethos. It currently practices regenerative agriculture and aims to have the Regenerative Organic Certificate by 2021.
Tata Harper, co-founder and co-CEO, said,"I love doing this. I feel very happy creating products that not only makes your skin beautiful but also keeps people healthy and improves their quality of life. That is extremely rewarding, and I look forward to creating more innovative products good for you and the planet."