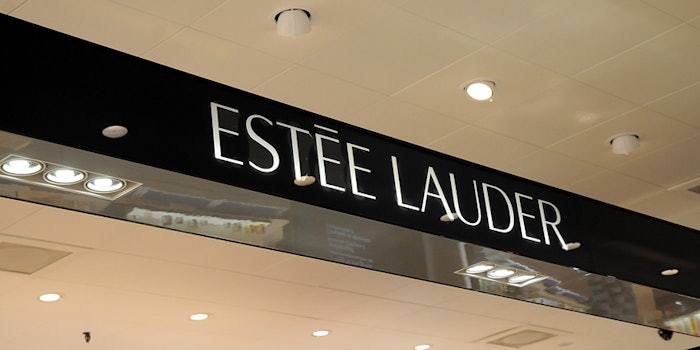 Estée Lauder Companies Inc. has announced its Q1 2021 results that showed net sales decreased 9% from $3.90 billion to $3.56 billion. 
Previously: L'Oréal Q3 & 9 Month 2020 Results
According to the company, the net sales decline was driven by some temporary store closures and lower foot traffic in open stores due to COVID-19.
Estée Lauder's acquisition of Have&Be Co. reportedly contributed to approximately 3 percentage points of net sales growth.
The report also showed the company had net earnings of $523 million, a decline from $595 million in the year prior. 
Diluted net earnings per common share was $1.42, compared with $1.61 reported in the prior-year period. Excluding the benefit of currency translation, adjusted diluted earnings per common share decreased 14% to $1.44.
Total reported operating income was $705 million, a 9% decrease from $779 million in the prior-year period.
Operating income decreased 11% excluding (i) restructuring and other charges and adjustments of $9 million compared with restructuring and other charges and adjustments of $25 million recorded in the prior-year period and (ii) the unfavorable impact of currency translation of $1 million.
The skin care category saw an increase in net sales from $1,842 million in 2019 to $2,035 million in 2020. Net sales of Dr. Jart+, which the company acquired in December 2019, contributed approximately 6% to skin care net sales growth.
Makeup saw a decrease from $1,443 in 2019 to 978 million in 2020. Too Faced delivered a small increase. 
Fragrance saw a decrease from $462 million in 2019 to $406 million in 2020. Estée Lauder, Clinique, certain designer fragrances, Jo Malone London and Tom Ford contributed to the decline. 
The hair care category remained the same both periods at $136 million. 
Asia/Pacific region reported net sales increase from $1,058 million in 2019 to $1,149 million in 2020. The Americas and Europe, the Middle East & Africa all saw declines. The Americas reported a decline from $1,160 million in 2019 to $873 million in 2020 and Europe, the Middle East & Africa saw a decline from $1,677 million in 2019 to $1,540 million in 2020. 
Q2 2021 Forecast
For Q2 2021 sales, Estée Lauder projects a reported net sales decline between 5-3% versus the prior year period. As well, the recent acquisition of Dr. Jart+ is forecasted to contribute approximately 2% to the company's overall sales growth.
Fabrizio Freda, president and chief executive officer said:
We are pleased with the stronger than expected start to our fiscal year amid this difficult moment as the global community continues to confront COVID-19. We delivered significant sequential improvement in net sales growth in every product category driven by progress around the world. Asia/Pacific again excelled with double-digit year-over-year growth in mainland China. Travel retail was a standout performer as Chinese tourists were drawn to the growing duty-free shops in Hainan Island and purchase limits increased there. Innovation flourished, representing over 30% of sales in the quarter, and the online channel1 thrived in every region.
We successfully adjusted our cost structure to minimize the deleveraging effects of lower sales, while continuing to invest for growth, enhancing our capabilities online and supporting our innovation. Looking ahead, our focus, first and foremost, is still the safety and well-being of our employees and consumers. We remain mindful of the ongoing effects of COVID-19 on consumers, the retail sector and economies as well as geopolitical uncertainty.
We continue to expect our multiple engines of growth strategy to deliver sequentially improving sales growth each quarter in fiscal 2021, which we expect will build upon our estimated global prestige beauty share gains since the pandemic began. We are confident in the long-term growth opportunities for global prestige beauty and for the Company, reflected in our announcement today to raise our quarterly dividend by 10%.
Today, we will release our fiscal 2020 Citizenship and Sustainability Report, entitled Beauty Inspired, Values Driven. The report highlights the achievement of our 2020 ESG goals as well as meaningful progress towards our 2025 goals. These milestones were reached across our citizenship and sustainability priority focus areas, despite the challenges of the pandemic.